Lately I've been doing a fair amount of research on those little arcade companies in the 80's, and how they managed to do business. It was in that process that I got exposure to a company by the name of Eagle Conversions Inc. I was surprised that some simple searches in the common places turn up little to nothing about them. One mention of Eagle Conversions on a set of The Glob instructions and a little bit of research led me to find a possible connection to Magic Electronics.

The Beginning – Eagle Conversions, Crazy Mazey and D-Rail
Update: Big thanks to Keith Smith at The Golden Age Arcade Historian for his tremendous help and time to provide information on this topic. This post has been edited to reflect some of that information provided.
By 1982, Frank Gaglione was already well traveled in the arcade industry. Through his company Omni Video Games, Frank had been involved in several lawsuits, including two that have been well published online and we won't go into here, one v. Midway and one v. Stern.
These two lawsuits are important to note because, it would appear that Frank was largely leveraging existing games through another one of his companies – Ferncrest Distributors. It would seem the long term goal would be to add game publishing into the mix. In February with a gentleman by the name of Kevin McIntrye, Frank created a new entity named Eagle Conversions, named after the location at 25 Eagle Street Providence RI. Here is a snapshot of what that location looks like today: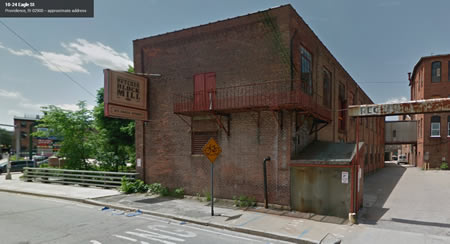 Eagle started to make a push to release its first set of games. One of those games was Crazy Mazey, developed and copyrighted earlier in 1982 by a fellow named Ron Meadows for the Apple II. Frank had a short history with the industry and the AMOA shows and through his network was exposed to "Mazey". In September of that year he filed a Trademark through Eagle to sell Crazy Mazey as a kit that could be put into an arcade machine.
Ever heard of Crazy Mazey? I hadn't. A quick search on Klov shows the game, but does not credit Eagle Conversions as the "manufacturer". Here is a photo from an eBay auction (Nov. of 2010) for a marquee sold in no other than Rochester, NY. 😉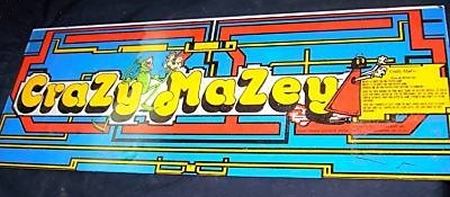 Eagle Conversions kept on trucking, and filed a trademark for another arcade game by the name of D-Rail, or Derail. D-Rail was one of several games that Frank had at the November 1982 AMOA show in Chicago. The filing says that the trademark was abandoned in May of 1984, and I was not able to turn up any traces of this game.
I would be taking a huge guess, and drawing a lot of assumptions, but what if D-Rail was actually this bootleg cabinet that I posted about in July? The theme seems to match the name, but I digress.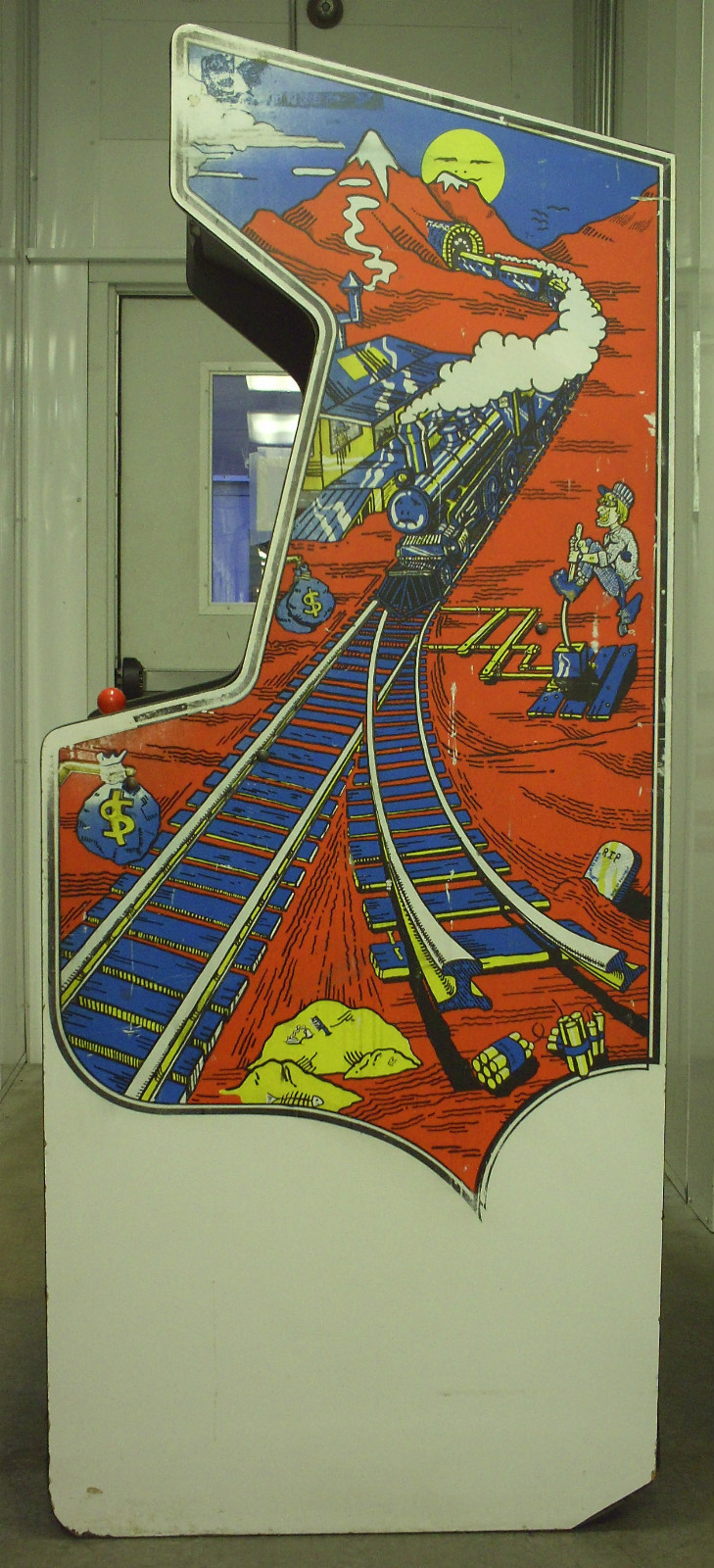 With the first two kits in development, things were moving along for Eagle Conversions.
Then, along came a Glob.
EPOS Corporation, the Rise of Magic Conversion Co. and the birth of The Glob
A lot of things were happening in the arcade world in 1982.
In September 1982 in Alabama, EPOS Corporation was officially formed. EPOS's primary business was in computer peripherals and had capabilities to develop and produce electronic products through its network in Alabama and regionally.
EPOS had a small taste of the amusement industry, and had worked previously through other partners like Photar. The latest game they had in development was called The Glob, a conversion kit that would work in old Pac-man cabinets.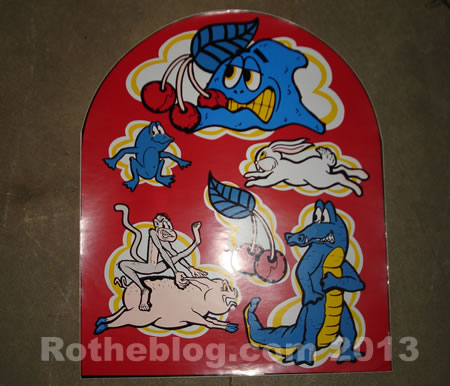 The Glob Sideart
The assumption I make is that Frank and his network of companies were now well known and had done well for themselves. Choosing to work with Eagle Conversions may have helped EPOS have a local office on the east coast to have better access to that market.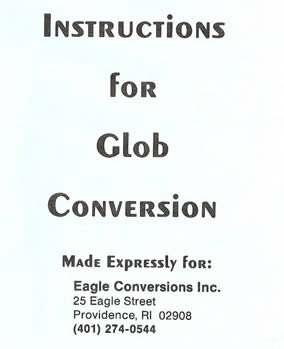 The original reference to Eagle Conversions in the Glob instructions
In October, the Trademark for The Glob was filed in Alabama under Magic Conversion Co. This was just the first step. Taking Magic to the next level, an individual with EPOS traveled up to RI to conduct a little business.
In late 1983 Edwin Goldin (d. 2006) was in Providence on EPOS behalf. My guess would be that while Edwin was in Providence he worked out an agreement to exclude Frank, and filed formal paperwork in Providence. Magic Electronics Inc. – was born, and given the exclusive rights to The Glob. The Glob may have been the last game that EPOS turned over to another party. Later in 1983 EPOS decided to spin up a division just for gaming by the name of Cardinal Amusement Products.
Ramping up for Magic Electronics
The newly named Magic Electronics continued pushing forward. Magic Electronics Inc. became active licensing games from a number of different publishers like Jaleco, Seatongrove and Shinkai. This allowed them to build out their offerings of conversion games that largely ran on Midway Galaxian hardware and Nintendo games like Donkey Kong and Donkey Kong Jr.
I also believe that Magic Electronics continued to work through Ferncrest Distributing to build regional partnerships in New York, New Jersey and Boston, MA to support their global publishing partnerships. But….that is another post for another time.
In Closing
Sadly, Eagle Conversions is no longer active. Frank Gaglione died in late 1997, and the business was dissolved around the same time.
If anyone involved with Eagle, Magic, or EPOS would like to add some additional detail to this article, please contact me. Additional information has come to light to expand the network of companies involved with Magic Electronics. I'd like to have some insight into the relationships between EPOS + Magic, as well as the relationships between Glak Associates + Omni Video Games + Eagle Conversions. If you are a family member or a former employee of one of these companies, please reach out – I'd love to talk with you as well.
Here are some similar arcade posts
If you enjoyed this post, please consider to leave a comment or subscribe to the feed and get future articles delivered to your feed reader.