Arcade Wants
Right now, here are the arcade games that I am looking to buy hopefully somewhere in Indiana (Indianapolis would be a dream ;). For the right price I would also be open to traveling to purchase one of these games in the surrounding states of Michigan, Illinois, Ohio, Kentucky, or Missouri.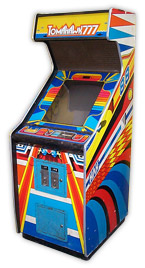 Data East Tomahawk 777
I came across this Data East game when I started to research my Burgertime DECO. The game is like space invaders with a submarine and a few other twists. (Click the image for a larger view)
Gameplay is just ok, but this cabinet above is just amazing looking. I would also be interested to possibly buy the other Tomahawk 777 cabinet that was released. Not sure if you have one of these DE Tomahawk's? Check out the Tomahawk 777 photo gallery. Any leads, additional photos or leads appreciated.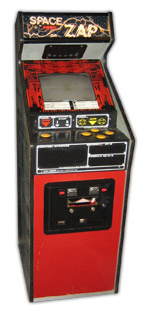 Bally / Midway's Space Zap
I am mildly interested in picking up a Space Zap. It isn't a game I want bad enough to drive a long distance, would prefer it to be within a hour or so of Indianapolis. The photo you see here is of the mini. Normally I really dislike cabarets, but the Space Zap cabaret is pretty cool, at least it looks very similar artwork-wise to the upright. I'm not interested in the cocktail.
Other arcade games / parts I am interested in buying
Here is every other arcade game part / machine / piece of information I am looking for (including the top 3 list items). If you have something on this list that you would like to sell, contact me. Or, conversely, if you want to do some sort of trade with services, I design websites, WordPress themes and other marketing materials and may be able to help you if you own your own business. Drop me a line.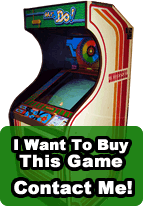 Mr. Do
I would take pretty much anything Mr. Do! related in trade, and always have an interest in seeing what you have since Mr. Do! is one of my favorite games. Otherwise, I am interested in;
Universal Cabinet – Condition: 8+ of 10 (See Right Side Photo – Click it for more information)
Bezel
Marquee – Bright pink, not faded
Jr. Pac-man
I would take pretty much anything Jr. Pac-man related in trade, and always have an interest in seeing what you have since Jr. Pac-man is one of my favorite games. I am especially interested in artwork for this. Otherwise, I am interested in;
A nice bezel with minimum fading and no flaking
Food Fight
Marvel Vs. Capcom
Not a high priority machine for me, but something of mild interest.
Nice Artwork – Working – Conversion or not in or around Indianapolis area
Batman Pinball
The Dark Knight by Stern – Used
Original Batman pinball
Parts Only
Midway Monitor Brackets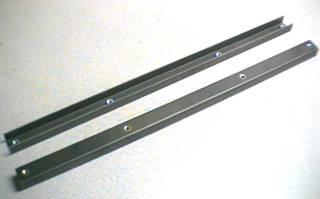 It seems I'm always looking for a set or two of these steel brackets. I'm not looking to pay $30 plus shipping however, so if you'll beat Mike's Arcade's price, give me a shout.
For Mappy / Jr. Pac-man
For Pac-man – (They look like the photo on the right)
Monitor Shroud Brackets
Brackets that attach on a Midway cab – Pac-man, Galaga, Ms. Pac-man – To mount the shroud
Shroud Plexi – Midway cab
Manuals
Flying Saucer EM Arcade Game – Manual: Digital or physical – doesn't matter
Atari Food Fight Manual
Artwork
I am always interested in NOS artwork, particular arcade sideart, so if you have something let me know and we could work out a trade for something I might have.
Pac-man
Pac-man Family Artwork – Any artwork related to any of the original Pac-man games – Stencils, decals, films, protoype artwork, NOS, etc.
A set of Pac-man stencils
Mr. Do!
Information
Information is always good for trading, even physical pieces. Contacts are good, but in particular I am looking for any information pertaining to;
GCC (General Computer Corporation) – Jr. Pac-man – Any contacts of people who worked for GCC or information leading to the original films for Jr. Pac-man (Mappy cab) artwork
Sega Gremlin – Any contacts or information that would lead me to finding out more about the rare Pengo bezel or to films for either of the original pieces of Pengo sideart