Circus Charlie
I kept an eye on the peeled off Circus Charlie sideart that was on ebay this week, but I never did bid. Not a priority project for me right now, I couldn't justify paying at least $18 for some beat up Circus Charlie artwork just to scan and vectorize it with no guarantee that I would reproduce it.
Buzzkill! won it, and I found a profile that matched his name on the Google Group forums, so I emailed him at buzzkill@comcast.net to see if he could help me out in scanning the (Konami) Circus Charlie sideart. That was the day after the auction ended on Wednesday of this week. I haven't hear anything back yet, and I doubt I will.
If I am meant to get a scan of the Charlie sideart / sticker, I will. No big deal. But I don't expect that something quite like peeled off artwork will come on ebay again anytime soon.
---
A friend brought this post on the klov forums to my attention. He knew that I had started to do some vector work on some Circus Charlie sideart. What the hell though, seriously! Why did this guy destroy multiple machines to scrap off old sideart?
This is original side art set off the video game Circus Charlie. It is fairly good condition. It was peeled off the cabinet and still has some adhesive backing.

The one side could probably still be scanned in and used as great reference. But I know that I am not paying much for this sideart, already the initial bid with shipping is a little high for my tastes. The Circus Charlie sideart project is a fun one, but not for a coin-op machine of my own. I'll just have to watch it. If the sideart doesn't sell, maybe the seller will come down in initial price.
---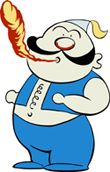 Today I started on vectorizing one of the Circus Charlie photos I straightened. The ringmaster artwork was fairly simple, and was one of the more clear photos I got.
The vector artwork will have to wait on the textured splatter effect on the colors. For now the colors are just solid. I would imagine eventually I will need to find a piece of NOS Circus Charlie sideart and get it scanned and use the scan for a raster effect.
---
After about two months of follow up with a collector that had full sideart, late last week I got a series of decent photos that I can eventually use (when I clear my plate) to vectorize the sideart.
So, I took the time to vectorize the lettering, which was time consuming enough. Hope to have more to add to this section about Centuri / Konami's Circus Charlie vector sideart soon.
---
---
Well, Brian Koening has been pushing on the forums to see if the party who had the Circus Charlie sideart reproduction was serious or not. But as of right now, things have come to a halt. I haven't followed up just yet on photos, I may try to do that this week and see what I get.
If you want to read some of the forum threads, here is the follow up thread on KLOV and the original thread on KLOV about the Circus Charlie Sideart.
---
On the klov forums there was a poster that claimed he had a NOS set of Circus Charlie sideart.   This got posted in the forum that got start in 2006 about a guy looking to reproduce the sideart from another set of NOS sideart.
He basically hinted at the fact that it was for sale, and he was taking offers.  I posted that I wanted to get some photos of it before he sold, but I am not holding my breath.  Ideally I would like scans if it is NOS, but the chances of having him do that are slim to none.
There has been a lot of activity about Circus Charlie in the last two days.  One of the collectors who originally spurred me on to think about reproducing it decided to put his machine up for sale instead of finding artwork for it.
Oh well.  I have 2-3 guys already that have said they will take photos of the sideart for me.  So, if I want to still pursue tracing it, I can and then find out who might want a set.  Hell there is a thread already containing the names of those interested from when the guy who was going to produce a set had asked on the forums.
---