Arcade Scores
That's right. The one and only Steve Wiebe. Steve's Donkey Kong Junior score of 1,190,400 was just verified and posted by Twin Galaxies. (more…)
---
Over the weekend I trashed my newly achieved high score in Sega's Pengo. My score of 226,610 was the first time I had beaten all 16 levels and started over, and I knew that I could break the top 10 Pengo high scores on Twin Galaxies with a touch higher score at just over 250,000. Little did I know that I would just storm my un-official way up to 6th place all time worldwide with a Pengo score of 347,430.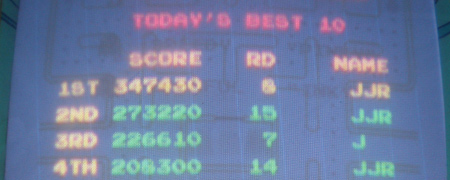 Since that first time I cleared all 16 levels I have done it four more times, and with my new high score of 347,000+ I played to level 40 before I died. I still have my setting at the hardest gameplay, and for a couple of reasons I am still weary about changing it down to the medium difficulty for true Twin Galaxies "tournament" settings.
The harder gameplay makes me better – Don't want to have to step down and lost that edge
I'll lose my High Scores:(
I am not going for anything official – yet
In the last week I have been in email contact with Blaine Locklair at Twin Galaxies to find out a little more about the submission guidelines. The high score submissions are fair, but kind of a pain (from turning the game on and off, getting a boot screen, stating name etc.), and right now, I am still small chips on the Pengo high score list. With my current score, I am in a league where the best scores taper off fast with my next closest competitior, Francesco Vasta from Italy, is at 457,400!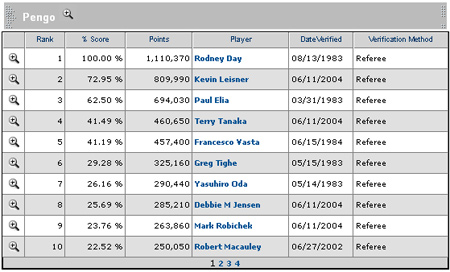 In order to be official, I would have to remove my Jrok high score board, and I would prefer not to if at all possible. So for now I won't worry about high score submissions. If I start to score 800,000 or higher for a couple of games it might be time to think about going for the Pengo world record, but right now I have a way to go. I feel like I can knock off Vasta, and Terry Tanaka at 460,000 and that may be it.
Would you go through the work of submitting a score to Twin Galaxies if you were in the top ten? I want to hear from some other collectors. I am guessing most might say it's not worth it.
---