Jr. Pac-man
Just a quick post, I updated the Jr. Pac-man arcade game registry with Anthony Pietrak's Jr. Pac-man this afternoon. I had him on the phone and he took a look really quick at the serial number on the back of his cabinet. From what he says, of the 3-4 that he has had, this is the nicest looking Jr. Pac-man he's seen. (more…)
---
Jr. Pac-man is one of my favorite games, that is no secret. So I thought it worth a quick mention that a collector in Oklahoma is selling off a modestly rare and eclectic collection of arcade games. In his lot of arcade games for sale he has a Professor Pac-man, which is the most rare and hardest game he owns, as well as a Lock N' Chase and a Jr. Pac-man conversion that includes un-applied (New Old Stock) artwork for the kickplate and the sideart. (more…)
---
Finding a dedicated Jr. Pac-man is a difficult proposition, but a couple of times a year you will see one come up for sale on one of the many typical gaming outlets, either RGVAC, Klov or BYOAC, or the more traditional outlets like Craigslist or ebay. Jr. Pac-man's come up for sale so in-frequently, and it is my favorite game, that I get excited anytime I see one for sale anywhere in the US.
Friday a listing came out on Craigslist in Phoenix Arizona for a "dedicated" Jr. Pac-man. It's hard to tell by the photo in the listing if the Jr. Pac-man is a converted Mappy, or a factory original. The sideart is hidden, but on one side at least either part or all of the Mappy sideart is showing. This machine is definitely a converted Mappy, unless the Jr. Pac-man sideart was meticulously pulled away with the Mappy artwork in tact underneath. You can tell that it is Mappy artwork because of the red border.
Three freestanding arcade games two needs repaired, one working. Pac-man Jr. and kick boxing and ? Asking or $600 (Will not seperate, must pick up) Leave a message if you call and someone will call you back at 623/566-4503. Thank you.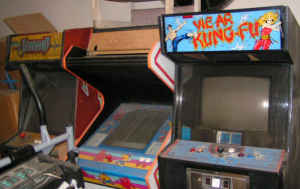 $600 for the lot of games, may or may not be a good deal. It kind of depends on whether you value the other two games or not. The Kung Fu game isn't worth crap, looks like it is in a painted over Williams Defender cabinet. Is that a Tutankam to the left? That has some value so the lot of them are probably worth about $500 seeing as the Jr. Pac-man even in a Mappy cabinet is probably worth about $300 plus.
Here's hoping I can get the serial number for my Jr. Pac-man registry if it is a dedicated unit and not a Mappy conversion.
Update July 30th, 2008
I figured that this Mappy / Jr. Pac-man in Arizona was long gone. But lo and behold, the ad for the three arcade game lot comes back up on Craigslist, and funny enough, the guy is now asking for $625.00, more money than in March. Ha.
---
I was surfing tonight, trying to come up with an idea for an arcade related post, when I came across this arcade history.
On arcade-history.com, I saw a snippet of information on the history of Jr. Pac-man that I did not know;
Jr. Pac-Man was developed by 'General Computer Corporation' (GCC) for Bally/Midway and is essentially an enhancement to "Ms. Pac-Man"
I thought to myself, isn't General Computer Corporation the company that made Super Missile Attack back in the day, a hack enhancement board to Missile Command and was sued by Atari? I thought that the lawsuit was settled, GCC went under, but before they did they had to build three games for Atari as part of the settlement. Food Fight and Quantum were two of those games, and the third was never made.
I took a look at General Computer Corporation on Wikipedia, and this is what I found;
The General Computer Corporation was an early video game company started by Doug Macrae and Kevin Curran.

The company started out with the game Super Missile Attack, which was sold as an enhancement board to Missile Command. Atari sued them for this, but the suit was soon dropped after Macrae and Curran agreed to develop games for Atari and stop making enhancement boards without permission. Their next project was Ms. Pac Man, which they developed as an enhancement kit for Pac-Man. They took the game to Midway who sold it as a sequel to Pac-Man.

They made other arcade games for Atari, such as Food Fight…
So, GCC was a third party that development coin-op games for the big arcade companies at one point in time. It looks like GCC development Ms. Pac-man, and more importantly, Jr. Pac-man.
I would assume that developed means they designed, built, programmed and fabricated the arcade machines themselves. Which leads me to believe that maybe an artist at GCC would have done the sideart and other artwork / stickers for Jr. Pac-man.
I am going to have to explore this a little more. At the very least, I still believe the famous pinball illustrator Margaret Hudson may have some contacts to lead me to the original Jr. Pac-man artist. I just need to find her contact information, hopefully an email. It almost seems like she does freelance work for Stern Pinball now, or works directly for Stern in their art department.
---