Pac-man
Restoring the artwork on a Pac-man arcade game with stencils I am sure isn't uncommon. But in the few years I've been collecting, I can't actually say I've seen anyone re-paint a cabinet and document it online. Joe O. (Spyridon) did over this past summer and he did a heck of a job. (more…)
---
I think that I must be cursed from picking up on any great deals involving cocktail table top arcade games in Indianapolis. Late last week I stumbled across a new classifieds website that contained the following ad;
TABLE PAC MAN GAME 1980 BALLY CO. NEEDS MONITOR GOOD CONDITION SELLING FOR $ 80. CALL FOR INFORMATION ASK FOR ED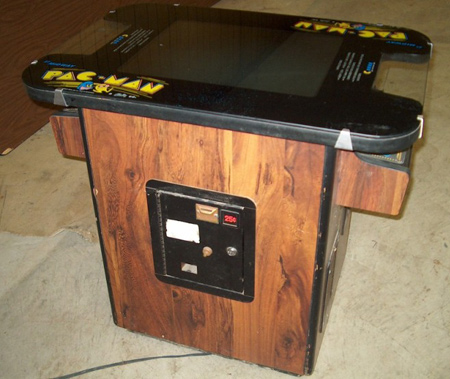 Twice in one month I missed great deals on table top arcade games. I called and left a message, figuring for sure that the pac-man cocktail had sold and the seller had forgotten to take the listing down. That was Thursday, and finally on Saturday I got a call back saying, sure enough, that pac-man arcade game sold last month soon after it was listed. (more…)
---
It was about 11:30 last night, and I checked my feeds for Craigslist. As anyone who hunts Craigslist for classic arcade games knows, and I have experienced this first hand with my Ms. Pac-man win in Michigan, 99% of the time it's junk and spammers but that 1% of the arcade findings are a great deal, and then it all comes down to timing.
Somehow I totally missed a post for northern Indianapolis at about 1:10 (I can't remember what I was doing other than working at that time of day);
Moving and must sell many items. Antiques include; Armoire, buffet, secretary, marbletop end table, marbletop corner table, marbletop hall piece, carved walnut pedestal and Louis side chair. Reproduction queen ann desk, chippendale bench, and federal table. Old Pac Mac arcade table, needs repair. Do not want to download all the photos. Please call to set appointment to see if you are interested. Location NW side if Indy between Carmel and Zionsville.
I emailed late last night, figuring some other collector or worse in Indianapolis got to the pac-man cocktail first. Sure enough, it was gone. (more…)
---