Pengo
The control panel overlay on the first Pengo I owned was still in decent shape, but with enough blemish that I went ahead and prepped the artwork for screenprint. But, then in the year they got printed I picked up an even better Pengo in Missouri and I no longer needed a brand new overlay. As a result, it looks like Bill J. was the first to install my artwork on a restored cabinet. (more…)
---
I'm into Pengo? Shocker. Back in January I was poking through old RGVAC archives and came across Mike Doyle's post on the HUO Pengo that a buddy found in someone's basement. At the time the game was being traded / sold he posted some photos, showing the promotional sign that came with it – which was really what I wanted to see. Those photos were a casualty of AOL Homespaces, but this weekend Mike was able to pull those photos off an old hard drive and I had to share this story again. (more…)
---
Not mine. I doubt I'll ever have to worry about needing to sell off my HUO Pengo to pay for a bike. The nice thing about a HUO game is that it retains its value better during a down market. Where the average user might only be able to sell a beat up Pengo today for $200, Bill might be able to sell this Pengo for his asking price of $700-$800. (more…)
---
Not sure if this one has hit many arcade game collector's radars or not, probably because this Craigslist listing was filed under games / toys which is not as typical. For $200 you can get yourself a working Pengo if you are in Northern Michigan. (more…)
---
Short post, can't resist when one of my favorite games come up for sale nearby on Craigslist.
Best offer takes it – i have a 80s pengo machine by sega. i was told it needs a new transformer to make it work. perfect for someone who knows a little about repair. Selling for the top offer – please email me if you have questions.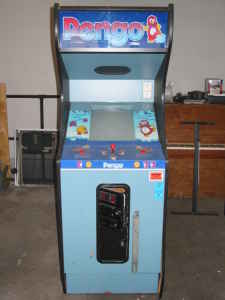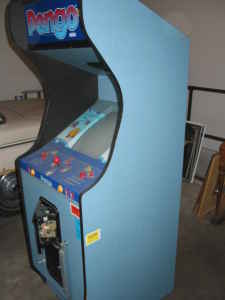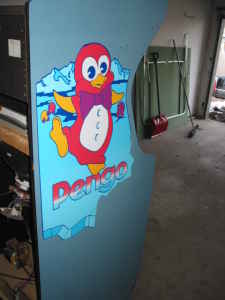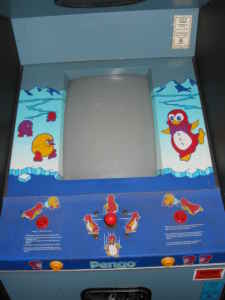 ---
Over the weekend I trashed my newly achieved high score in Sega's Pengo. My score of 226,610 was the first time I had beaten all 16 levels and started over, and I knew that I could break the top 10 Pengo high scores on Twin Galaxies with a touch higher score at just over 250,000. Little did I know that I would just storm my un-official way up to 6th place all time worldwide with a Pengo score of 347,430.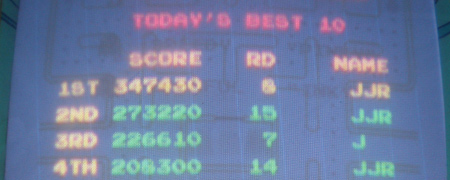 Since that first time I cleared all 16 levels I have done it four more times, and with my new high score of 347,000+ I played to level 40 before I died. I still have my setting at the hardest gameplay, and for a couple of reasons I am still weary about changing it down to the medium difficulty for true Twin Galaxies "tournament" settings.
The harder gameplay makes me better – Don't want to have to step down and lost that edge
I'll lose my High Scores:(
I am not going for anything official – yet
In the last week I have been in email contact with Blaine Locklair at Twin Galaxies to find out a little more about the submission guidelines. The high score submissions are fair, but kind of a pain (from turning the game on and off, getting a boot screen, stating name etc.), and right now, I am still small chips on the Pengo high score list. With my current score, I am in a league where the best scores taper off fast with my next closest competitior, Francesco Vasta from Italy, is at 457,400!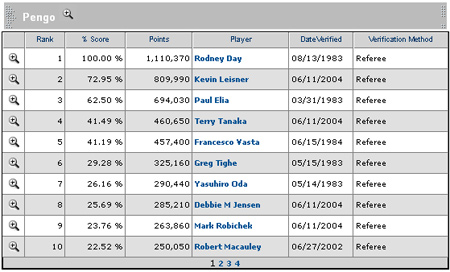 In order to be official, I would have to remove my Jrok high score board, and I would prefer not to if at all possible. So for now I won't worry about high score submissions. If I start to score 800,000 or higher for a couple of games it might be time to think about going for the Pengo world record, but right now I have a way to go. I feel like I can knock off Vasta, and Terry Tanaka at 460,000 and that may be it.
Would you go through the work of submitting a score to Twin Galaxies if you were in the top ten? I want to hear from some other collectors. I am guessing most might say it's not worth it.
---
I was taking a break from reading my economics tonight, playing my favorite game Pengo and trying to decide what my blog entry for tonight would be. I have a list of items I want to write about, but before I realized it, I had made it to level 14 in Pengo without dying and I was racking up quite a score and I knew what my topic would be.
I swore when I played Sega's Pengo in Mame, that the levels and the difficulty rolled over at some point back to level 1. I was thinking Pengo rolled over at level 14, but as you can see below I had proven this wasn't the case. Tonight I beat level 16 and got a nice surprise, I was back at level one, with the less aggressive and lesser quantities of Sno-Bees and all sorts of opportunities to easily line up the diamond blocks. By the time I was done, I had trashed my previous high score with a score of 226,610! Check out my high scores list;

Before that point, I had given up on returning to easy levels, and couldn't fathom how all of the top Pengo players on Twin Galaxies lasted long enough to get scores higher than 400,000, 600,000 and even a score of over 1,000,000 (Rodney Day). My Pengo score in theory would put me at 11th place! I was hoping I cracked the top 10, but now I know to concentrate harder on beating level 16 to really run up that score.
I checked my dip switch settings (set for freeplay on Jrok's Pengo enhancement pack), here's my configuration;
Switch Bank 1
1 – On
2 – On
3 – On
4 – On
5 – Off
6 – Off
7 – Off
8 – On
Switch Bank 2
1 – Off
2 – Off
3 – Off
4 – Off
5 – On
6 – On
7 – Off
8 – Off
According to my switches, I am playing Pengo on the "hard" setting, and I am setup for three lives. The settings for Twin Galaxies Tournament Settings are for medium difficulty with five lives. I don't want to erase my Pengo scores and start over, but I know for sure that I would do that much better with more lives and an easier difficulty.
Can anybody out there informally challenge my high score? Meaning, a higher score played on an actual Pengo machine? A score not submitted to Twin Galaxies because it's a little self indulgent and because it can be difficult to submit.
---