Q-bert
Here's the situation. You and your brother are in your 20's, and you are in charge of ordering inventory for your father's grocery store. Coca-Cola approaches you about a Mello Yello promotion – the more cases of the soft drink you purchase, the more points you earn towards a one of a kind Q*Bert. What would you do? Say goodbye to my mouth. (more…)
---
About a week ago I got some insight from Mike into how he discovered the 7-Eleven version of Q-bert. It's a weird little story if you haven't heard it already, there was a lot of luck involved, some might even say it was divine intervention that this rare game version even made it onto the multi Q*bert game that was mailed out yesterday. (more…)
---
Mike and Dave are currently working their butts off to hold to their deadline for shipping this multi board on Nov. 24! I am blown away by this resolve, especially in a time where project time creep seems to be the status quo.
The most important item of note – It is now official, there is an 8th game on the multi Q*Bert board taking advantage of some of that extra memory that was needed for Q-bert 7-Eleven. I know all of you will know what game this is by the screenshot, but follow the jump to learn a little more.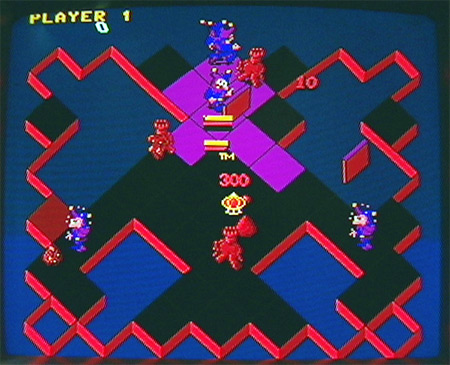 Source: Ionpool.net
---
Back in July Mike Doyle and I had been writing emails back and forth and he had told mentioned some sparse details about the 7-11 Q*Bert discovery. We did some email back and forth but Mike is a busy guy and I never got the details of his story. But, he did remembered me as he and Dave teamed up again to release another round of the 6 in 1 Q*Bert kits (Now 7 in 1 with the 7-Eleven version). They've got a new T-Shirt with the fun little multi game and I think it is a cooler revision to the original Q*Bert Multikit t-shirt.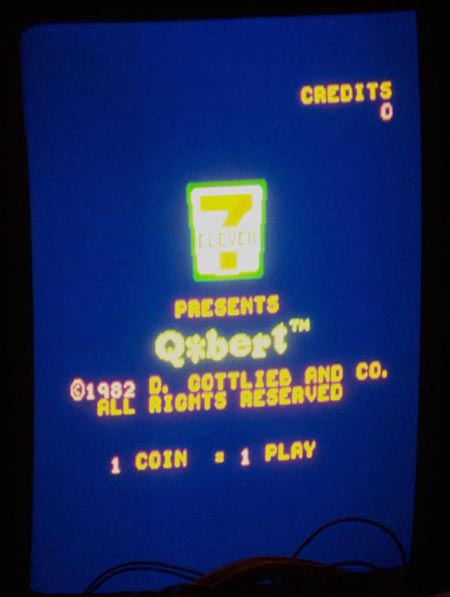 ---
Back in late May there was a couple page thread on Klov asking why Rich at This Old Game was remaking artwork for Gottlieb's Q*Bert. Seeing as almost 7 years had passed since the first Q*Bert decals / artwork was reproduced there are a lot of people who vaguely knew there were different versions, but didn't know who was selling the most accurate reproduction.
We put that thread to rest, but in case you are still curious here is an expounded history and a visual comparison of the Q*bert sideart that has been reproduced. (more…)
---
Mike Fox, a collector in Chicago is offering his Q*bert Multi Kit (developed by Dave Widel) for sale to RGVAC before auctioning it on ebay. He also mentioned that he would include the promotional Multi Q*bert t-shirt that came with his order when he originally got the kit. A quick search on Google didn't turn up anything about the Q*bert shirt, so I asked for a photo.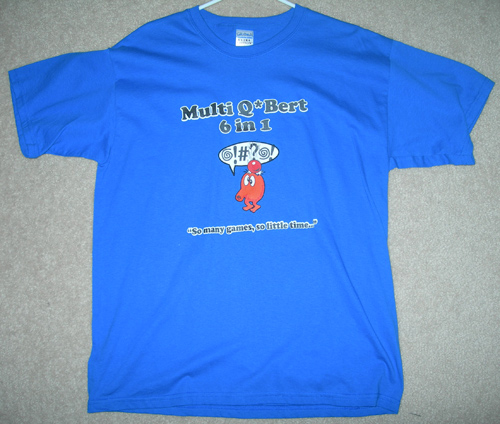 ---