Super Punch Out
There was a post on the forums about a month back of someone looking to do reproductions for some Nintendo Super Punch Out Decal / Sideart Stickers. At the time, I jumped in, thought it would be a fun short project that could help me get to know some more collectors.
The collector sent out polite emails to all VAPS members who had a Super Punch Out to see if any of them would be willing to help get a scan of the Super Punch Out sideart. As it turned out, one member had one NOS decal, un-applied and was open to getting it scanned. They took it to a local print shop to get a nice full oversize scan of the Super Punch Decal, it turned out nice. They sent me a copy, but the collectors decided that is made more sense to do the decal reproductions on their own and I didn't feel that strongly about this game personally so that was fine. (I haven't ever actually played Punch Out or Super Punch Out in the arcade, only Nintendo)
Here is what a smaller version of what that sideart Super Punch Out Decal piece looks like;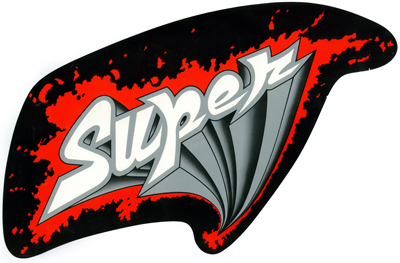 There were two challenges with the artwork. The is a dot gradient of sorts on the swooping "Super" lettering, and the original artwork was screen printed on reflective material of sorts. Here is a closeup of the gradient.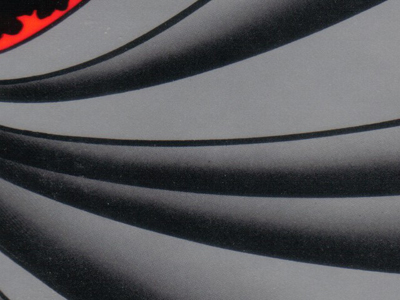 I had originally contacted Rich at This Old Game to get his input on how the gradient would be done. It doesn't sound like the Super Punch Out decals will be made with him, however;
We are looking for people interested in buying a set (two decals, one for each side of the machine).

The decal in question is approximately 18″ x 10″ and is placed above the regular Punch-Out side art when converting to Super Punch-Out. It says "Super" on it and looks like this – http://maxim.skyphix.com/super.jpg

This illustration from the Super Punch Out manual shows where they are applied on the machine;

I have an NOS Super Punch Out decal that I scanned in at 600 DPI and vector traced. The NOS decal will also be used by the screen printer for color matching. The original Punch Out decal has portions that are a metallic silver-gray in color, and I was concerned about them being able to recreate that. I visited their place today to show them the decal and they showed me a piece they were doing for L.L. Bean which used a nearly identical metallic silver-gray ink, so that part should be no problem.

The Super Punch Out artwork will be screen printed (AKA: silk screened), 3 colors, with the black being halftoned to represent the gradients (which is how the original was done), onto white self-adhesive vinyl, and cut to the outside shape on a plotter.

When looking at the original, they noted that it was laminated, which gives it a glossy appearance. They showed me a piece they had done that was laminated in the same way, and the finish/gloss was identical.

The cost was originally estimated at $26 per decal, but with lamination, it was estimated at $27 per decal ($54 per set). I know it is a bit pricey, but it is a small run (minimum order of 24 pieces).

Anyone interested in buying a set for a Punch-Out or Super Punch-Out machine will only need to pay actual cost.
There was a tremendous response to the reproduction decals, which is awesome for them because they'll both get a couple new sets of the Punch Out Decals as well as recoup some of their cost. Sounds like the order was placed on the 27th of this month, so the Super Punch Out Decals will probably be done sometime in December of 2007.
Update: 02.06.08
The Super Punch Out Decals were finished at the beginning of the year, around the second week of January 2008. Here is a photo of the final product. Not the best photo of the sideart decal, but it is a reflective material so what can you do?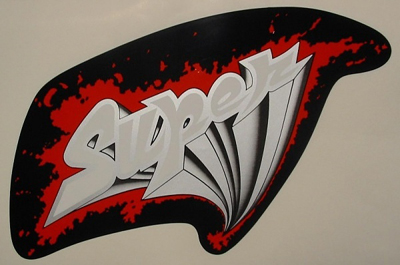 They sold out in the pre-order with only about 10 sets of Super Punch Out art reproduced. Make sure not to miss out as Maximum Recoil is continuing his quest on reproducing artwork for this, his favorite game, by doing a limited fun on the "Duck Pull" artwork.
---