Comic Book Stores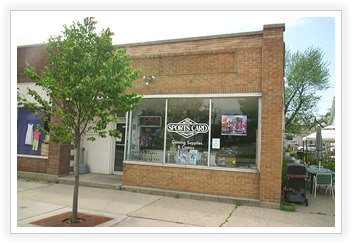 Location : Grand Haven, MI
I went into this comic store soon after I started collecting for my first pass in the sixth grade. They would have great sales on books I was looking for, and the whole experience was generally upstanding. But I was young, and at the time, two chronic smokers that were in their 120's didn't bother me. The store moved within one strip mall four times, and I grew tired of the old owners.
Eventually the store was bought out by two other guys. They are two individuals who treat their customers like they don't need the business. I had orders that were not fulfilled, without a explanation as to why or a notification that I wouldn't be getting my books, and they ran the store with the idea that every person in the universe loved role playing games with figures. I know that comic stores can be a little quirky, but do believe customer service should come first, and here it comes last. It is truly a store owned by two guys living their dream, and their dream is to try to make money playing with tiny painted characters all day long, and ignore everyone else from the genre. Not good business sense.
---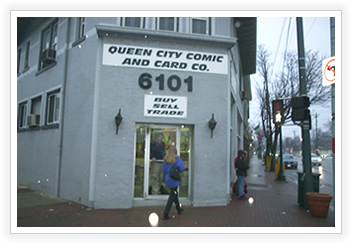 Location : Cincinnati, OH
I really liked this store. A cool old corner intersection building that is misleading when you first walk in, Queen City Comics is a very spacious store with plenty to choose from. They had all of the trades I was looking for that day, and the one single issue of Tomb Raider too. Two rooms large, this store has a ton of selection and back issues, and the guys who run the store are nice, not too geeky, and very helpful.
---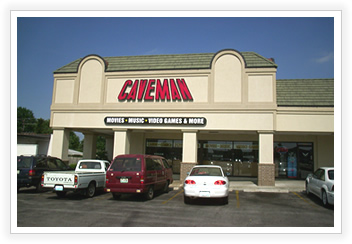 Location : Springfield, MO
It is always fun for me to stop at a store out of state. The adventure of finding it and the unknown. I don't know what about the unknown excites me, but this store is a great example. With everything from music, to movies, to an extensive original transformers collection for sale, this humongous store was a dream come true. The staff was helpful, the guy at the register even giving me a comic out of his box since they were all out of it, and there was a girl that worked there that was the hottest comic book girl I have ever seen.
---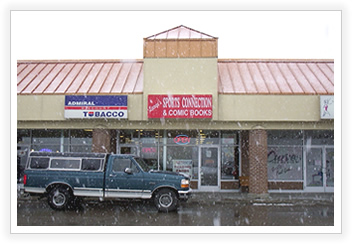 Location : Muskegon, MI
I remember when I first moved to Grand Haven and Comics were a big thing. There must have been like 4 stores just in GH alone, and Langes was one of them. They had a small local chain of four stores, and I used to go there all the time looking for great deals on baseball cards, and later in life, comic books.
But eventually, like most businesses, Lange's got sloppy. I think they may have two stores now, one of which is around the new Muskegon mall that combined the upper Muskegon location with the Grand Haven location. But soon after I went to college, Mr. Lange hired two brothers that really made the shop unfriendly and scary to go into. These two brothers are each easy 375 lbs. and the one guy is like "Comic Book Guy" from Simpsons but 10 times worse.
When I go in the stores, she is overwhelming customers with geek speak and silly jokes instead of trying to help people because he is disgustingly overweight. The store usually smells like pizza and sweat and to top everything else off, Lange's doesn't have hardly any selection. They don't stock but maybe one book of very selected titles, and then if it is out for more than a week, they mark it up 125% of cover price.
Don't go to Lange's. A little geek is ok in comics, but business still has fundamentals, and one of them is never hire someone who so disregards his appearance that it can make your store go down the tubes.
---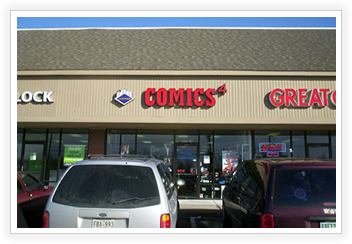 Location : Indianapolis, IN
I have only been to this store twice, but it seems to be a pretty good one. Like most of the Downtown Comics, it has a pretty good selection, but things will sell out quickly if you only have one copy of them. This store also has a good flow, new releases lead you to the back to back issues and around the back with those back up to the front with graphic novels. And unlike some Downtown Comics locations, you can reach and easily access the back issues at will. The guys who work here are generally nice and don't pester you, but they also may not say hello when you walk in either.
Update
In late 2005 this location came under new management. The guy who runs the store always knows your name, and is really friendly. He's a people person, remembers what you read and is a great businessman too. He got me to switch my subscriptions to his location and it isn't even really on my way.
I don't know how much longer this will be a Downtown Comics location, but I will be here to review anything that changes.
---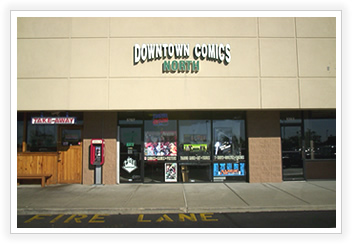 Location : Indianapolis, IN
I went to this store on a regular basis when I worked at DGS Group on the north side. A big store, but it doesn't always have
things in stock. The guys who work here are fairly friendly, always professional, but a little standoff-ish.
---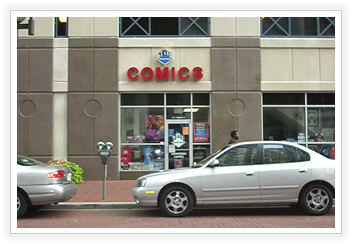 Location : Indianapolis, IN
This is the dream comic shop that every fanboy. With a great store, a friendly staff of knowledgeable guys, and people who always ask if there is something you need without being pushy, Downtown Comics is the Comics chain that only a big city atmosphere, right in the thick of things downtown, can support.
---