Sketches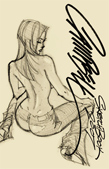 I got an awesome surprise today!
Our close friend, and well connected comics enthusiast David Wray called on Saturday to let both Christine and I know that he had a surprise for us. He got us the 2007 J. Scott Campbell Sketchbook at the Wizard World Chicago convention.
But, then later on in the day he found out that J. Scott would be doing sketches tomorrow, and he was going to try to get in line.
Well, turns out that they were just quickie sketches, but who cares. He stood in line to get one and was able to score one for the both of us! How exciting is that!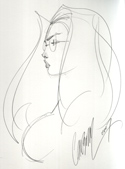 David is networking, trying to break into the comics business as and Editor I believe. I wish I could do more for him in that arena, because he always takes care of his friends without asking. He is always thoughtful, and looking out for others best interests. I have to believe that would translate really well to being an editor. Working with the different artists, being a liason between them and the company.
He hasn't been doing networking for too long and he has already made a ton of progress. He also has a great resume having done Public Relations for a comics periodical based out of Cincinnati, OH.
Well, either way, I could sing his praises all night. Thanks David, you're the best.
---