Music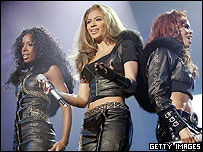 At the height of a resurge thanks to a brand new album, Destiny's Child has announced their formal breakup.
The trio took a break in 2002 to pursue solo interests, which included solo albums for all three of the singers. Kelly Rowland had a hit with Nelly called "Dilemma", but Beyonce Knowles came out the most successful with five Grammys for her "Crazy in Love" album produced by Jay-Z.
Formed in 1997, the group had a rotating cast of members during the first year and a half. But with some of the members having toured together since they were around the ages of 10, it was time for them to fully go after their own interests.
My own opinion, we won't ever hear from Michelle Williams again since we didn't hear anything from her solo albums, and Kelly Rowland will have one more good solo album and either become part of another group or fade into the distance. The lone performer that will last will be Beyonce, and at 23 years old, she will probably be one of the most successful female R&B artists of all time.
---