Galaga Arcade Game Information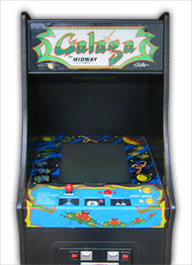 Galaga was one of the most popular arcade games by public opinion, and if you've ever played video games, you'll probably played Galaga. Most home games rooms have a Galaga arcade game just because it is so widely known and most people gravitate to it immediately.
Due to the popularity, it isn't hard to find a Galaga arcade game. A game of similar popularity – Ms. Pac-man, sold around 100,000 units. Even if there were only 60% as many Galagas, you get a sense for how common of a game it is. Finding one in working order for your gameroom should not be a problem, but condition will vary. Whether you are looking to buy a brand new Galaga arcade game or want to buy the cabinet to restore, this page of resources is for you.
Galaga Arcade Game Resources
Below you will find a list of resources from reproduction Galaga artwork down to building your own cabinet from scratch. If you would like to suggest any additional resources for this page, please contact me.
Power Supply
Cabinet