More About Kyle Snyder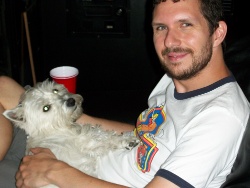 Jeff has asked that I contribute a brief bio of myself for Rotheblog, so let's dive in with both feet…
After years of collecting console games and running a small arcade game route in Southern Maryland, I signed up for Frank Polosky's Video Magic fanzine, to which I ended up contributing a few classic game reviews in the mid 90s. Then, an incredibly fortunate set of circumstances at my call center job led me to join the team at Classic Gamer Magazine. (I'll tell that story sometime soon) While at CG, I authored a variety of reviews, stories, and articles, in addition to creating my Lost Arcade Classics column, which covered obscure and forgotten golden age coin-op video games.
I remained with CG for their entire print run covering fall '98 through spring '01. After a short hiatus, my L.A.C. column was reborn as One Blip Wonders in the pages of Game Room Magazine, where it was featured bi-monthly starting September 2002. Following 2006's reclamation of the original Lost Arcade Classics moniker, my column continued spotlighting rarely-seen arcade games until GR ceased publication in November 2010.
Going forward, I've created a website which features all of my L.A.C. articles from '08 though '10, (more to be added soon), and a corresponding Facebook group that features screen shots and regular "mini reviews" on obscure games. Check 'em out at the links below.
For 2011, I plan to create a Lost Arcade Classics compendium in book form, and I am currently exploring the world of ISBN numbers, self-publishing, and so forth.
I reside in Columbus, Ohio with my wonderful wife Michele and awesome five-year old stepson Zayne, both of whom are accomplished gamers in their own right. Zayne recently celebrated a true milestone, eating all four blue ghosts on one energizer in Pac-Man for the first time! And Michele is known for getting high scores in Metal Slug 2, Burgertime, Mr.Do, Eyes, Super Pac-Man, and Mousetrap, where she can often be heard cursing the existence of "that darn hawk"!