Ms. Pac-man Arcade Game Information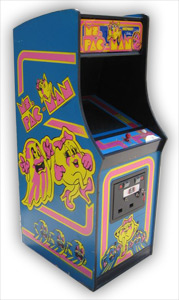 Ms. Pac-man was one of the most popular arcade games of all time and is one of my personal favorites. Bally's Ms. Pac-man arcade game has had such staying power that you will still see it in arcades today. From 20th anniversary combo machines to original cabinets, Ms. Pac-man can still be played in nearly every city in select locations.
Due to the popularity, it isn't hard to find a used Ms. Pac-man arcade game to add to your home gameroom. Finding one in working order should not be a problem, but condition will vary.
The most common problem with the Ms. Pac-man artwork is that the artwork on the cabinet will fade. It is nearly impossible to find a Ms. Pac that has been on location that still has pink in the on the sides and usually the same problem occurs with the marquee. One tip – If you purchase a used Ms. Pac-man, if you can find one that still has painted artwork and has been restored, that will hold its value longer than your a-typical scuffed up faded machine.
Ms. Pac-man arcade game resources
Due to the popularity of Ms. Pac, you will have no problem getting a hold of reproduction and replacement parts or artwork. Whether you are looking to buy a brand new Ms. Pac-man arcade game or want to buy the cabinet to restore, this page of resources is for you. Resources still being added.
Artwork
All artwork for Ms. Pac-man is available for purchase from Two Bits. I will not link to their site because they produce arcade artwork that is inaccurate and their customer service is terrible. However, they have a license with Namco to produce every part you could ever need. You've been warned – beware.
Ms. Pac-man arcade game stenciling tutorial – There are 8+ parts I wrote when I stenciled my own Ms. Pac. I swear I will finish the rest of the parts someday. But this is an excellent resource if you are thinking about restoring your Ms. Pac-man.
Ms. Pac-man arcade stenciling photo gallery – This is the second Ms. Pac that I restored using stencils on contract from another collector. This is a great visual step by step resource to get an idea of what is involved.
Parts
Troubleshooting
Lawnmowerman's Pac-man / Ms. Pac-man repair guide – Lawnmowerman was the name of the resource online that had a ton of information about repair. Sadly, the site lapsed, but we were able to save and update the information to more easily browse and digest it. If you know nothing about repairing a Ms. Pac-man arcade game, I'd start there.