Pinball repair in Indianapolis, Indiana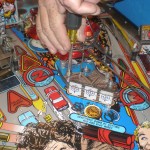 Welcome! You own a pinball machine and all of sudden it stopped working. You're located in the Indianapolis, IN area and now you're trying to either figure out how to repair it yourself, see what pinball repair generally costs, or you just want to find someone local to the Indianapolis area that will come to your home and repair your pinball machine. You've come to the right place.
Pinball – It's what we do!
We will come out to your home and repair your pinball machine on site. From flipper problems, to balls sticking, to faulty boards we handle every kind of pinball game repair.
How long will a repair take?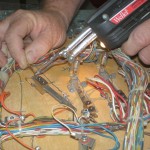 A common question, will it take weeks and weeks to get my pinball machine repaired? No, repair should never take months on end.
Some pinball repairs are simple and can be done on site within a matter of an hour or two. Some repairs require us to take a part of your pinball machine with us, or rarely, the whole machine. In that case we will return your pinball machine in a prompt manner and perform the repair quickly.
Where do you service pinball machines?
We service pinball machines around the Indianapolis area and beyond really. Here are just some of the locations – Zionsville, Carmel, Westfield, Fishers, Noblesville, Anderson, Greenfield, Shelbyville, Greenwood, Mooresville, Franklin, Martinsville, Bloomington, Columbus, Brownsburg, Avon, Plainfield, Lafayette – and this can go on. If your local is not in this list, please still contact us, we can come out to your area. We travel as far as Chicago Illinois, Lansing Michigan, Columbus Ohio, Louisville Kentucky, etc.
Testimonials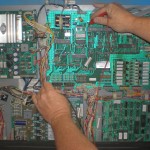 We do great work repairing pinball machines in Indiana. But don't take our word for it, here is one testimonial from a happy gamer;
Back in 2000, the techs from Rotheblog repaired the aux lamp driver board on my Kiss pinball machine. They diagnosed the problem, ordered the necessary parts, and installed everything for me. I never had a problem with that board again. I have since referred them onto a number of friends and associates, and they've been able to fix every one of their issues whether it be EM or solid state technology.
Contact us today!
Our business of repairing pinball machines is grown throughout Indianapolis by word of mouth. The only way we can do that is to provide the best service possible and build relationships with the local pinball collectors. Contact us today for a free estimate of repair on your pinball machine in Indiana. We look forward to hearing from you!