Brendon Zeilder's collection of reproduction and new old stock arcade artwork is staggering. Brendon was the catalyst in getting the Super Punch Out Decals reproduced. He found me first, I don't remember how, maybe he knew I had developed the Professor Pac-man control panel overlay (Come to find out he was one of the buyer's). Even though we didn't work together on the Super Punch Out sideart decal, I still followed the production updates in the Klov threads online.
The decals are finished, and a photo was referenced in Brendon's online webshots album. Little did I know it was in a album with rich detail and information of other pieces of arcade artwork. I was blown away, take a look at some of these screens.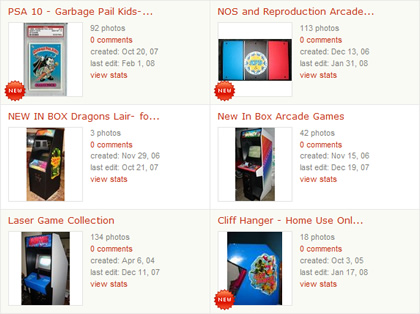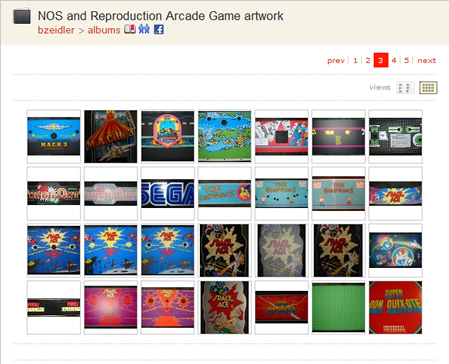 He has one album for New in Box / Home Use Only machines, and one gallery just for his NOS and Reproduction Artwork collection. In the NIB and HUO arcade machines album he has photos of a Dragon's Lair, Elevator Action, Pac-Land, Paperboy, APB. Some pretty nice machines that were probably time and cost intensive to aquire. But the repro artwork album is what will blow you away. From less popular items like APB NOS artwork, to Zookeeper, Food Fight, and Professor Pac-man control panel overlay's and beyond, Brendon's collection is a a great insight into some of the limited run of reproduction projects for arcade artwork have taken place over the last 5-10 years. It also gives me a good idea of just how passionate some collectors are about their artwork.
Here are a couple of pieces he has. I would think they are fairly rare, but maybe not….a NOS Burgertime CPO and NOS Moon Patrol CPO.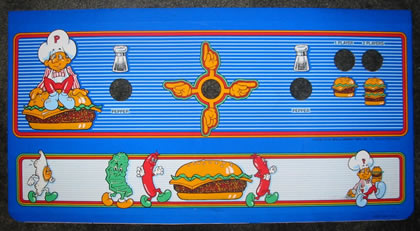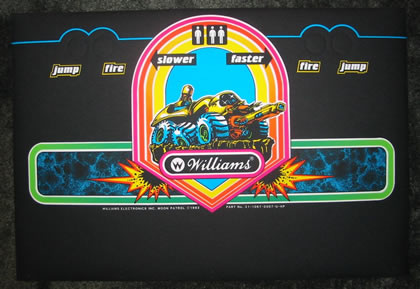 If you have ever asked yourself, "Has reproduction artwork been made for "X" game?", take a look at this collection. Well labeled as to who made it, Arcade Renovation, Quarter Arcade, Arcade Shop etc. his photo album is a great arcade reproduction artwork reference material. Here is a list of what I could see in the NOS album, or you can follow this link and visit Brendon's artwork yourself.
APB
The Act Prototype
Arch Rivals
Arm Wrestling
Astron Belt
Badlands
Bega's Battle
Bubbles
Burgertime
Cheyenne
Chiller
Cinematronics Coin Door Decal
Cliffhanger
Cobra Command
Combat
Commando
Crossbow
Dragon's Lair
Elevator Action
Esh's Aurunmilla
Exidy Logo
Firefox
Food Fight
Frogger
Gauntlet
Ghosts Goblins
Goal to Go
Jungle Hunt
Jungle King
Karate Champ
Kid Niki
Kung Fu Master
Mach 3
Moon Patrol
Mystic Marathon
Paperboy
Professor Pac-man
Punch Out
Sega Logo
Simpsons
Space Ace
Super Don Quixote
Super Punch Out
Tetris
Thayer's Quest
Timber
Travelor
Track & Field
Toobin
Ultracade Artwork
Up N Down
Us vs. Them
Wild Western
Xenophobe
Zaxxon
Zoo Keeper
Do any other collector's know of photography albums online that are as well cataloged, labeled, and as extensive as this artwork collection? Or photos of artwork collections that aren't as large, but interesting? I know that Richard Ford probably has a better artwork collection, and I know there are probably a ton of collector's not on the klov boards who may have more than this. Quite an impressive collection Brendon.
---

I have met one owner of an Agent X arcade game, although I didn't know anything about it when I met him, nor did I even see the game during my visit. It wasn't until successive conversions later that I found out about Agent X's rarity.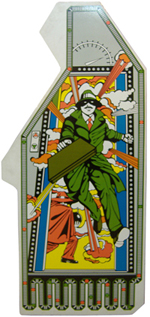 This is what Joe had to say about Agent X, recalling as best he could the history of the game off the top of his head and what he had to go through to find his;
"On the Cloak & Dagger, it gets a little collector/geeky/anal. When Atari originally developed the game, the name was Agent X. Then Hollywood made the movie Cloak & Dagger and asked Atari to make a game for it. Agent X was already a version of the game. Rumor has it that only 20 dedicated Agent X units were ever made and these were only made for field testing purposes, they were never meant for public release. Of those 20, 7 were Agent X, and the other 13 were Cloak & Dagger. Cloak & Dagger was released for general purchase in kit only form, for converting other games, specifically Williams games (Stargate, Defender, Robotron, Joust). So game play wise, Agent X and Cloak & Dagger are exactly the same, only difference is the title screen."
"Cabinet wise, conversion units are cheap and relatively easy to find. They sell on ebay for less than $400. Dedicated units are close to impossible, as there were only 20 or so made, and the ones out there are typically in collectors hands that don't want to sell them. The last one I heard selling was a Cloak & Dagger which sold for $3,000. An Agent X is even more rare. At one point someone offered me $10,000 for my Agent X. I'm sure that's no longer a valid offer as that person has since got a dedicated Cloak & Dagger. But it was a nice offer to get. Certainly one of the most valuable in my collection."
"Probably way more information than you wanted, but it's one of my prize games, so I like talking about it! It was a pretty big search to find and get."
So basically my interpretation of this information is that of the few Agent X's that were produced, most of them are or at one time were owned by Atari employees. Now they made have made their hands into serious collectors who know their value, similar to Joe, but the only way you might get one is to start the way he did and track down some old Atari employees.
Why reproduce artwork for Agent X?
Well, for two main reasons. I like the two people I have met, so it is a good opportunity to show them some good will in networking. Also, because Agent X is so rare, hopefully it will mean I am one of the few people who have a copy of vector artwork for the Agent X kickplate, sideart, marquee, speaker overlays, control panel, or whatever else I decided to vectorize and prepare for reproduction.
Update – March 23, 2009
If you look below in the comments, one of the original creators that worked on Agent X left a comment, and basically confirmed all of the information that Joe shared about the game. I have no doubts that on his hunt Joe probably talked with Rusty about the history and that is where most of his 'unconfirmed' rumors came from.
---