One of the most time consuming aspects of building any Mame machine is collecting all of the "necessary" files. A short list of the digital files would include working game roms, bezels, cabinet photos, marquees and of course character art. The coolest Mame machines have all of the classic arcade artwork including icons of the different gaming console systems that will be used in the menus for selecting different emulators.
I came across a topic on the Arcade Controls forums (BYOAC) where a user had a collection of these icons that he had been editing on an on-going basis. I thought I would download the zip and take a gander at what I expected to be amateurish looking graphics. I was pleasantly surprised, check out a few of the icons of the consoles below;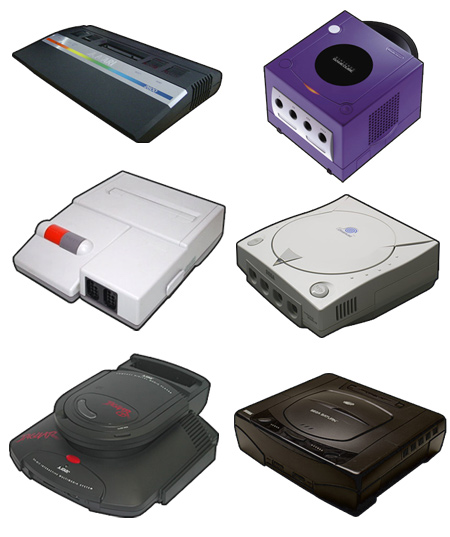 I don't know where the console images came from, maybe they came from an include with a front end or maybe they were generated from photos. Source doesn't matter, there are a ton of console icons in this archive and here is the complete list of the gaming systems. All of the icons are at a fair resolution with transparent backgrounds (PNG files), great for use in Mame or even in a design for a website about video game news. You can download the icon collection here.
Amiga CD32
Atari 2600 Jr.
Atari 2600
Atari 5200
Atari 7800
Atari Jaguar
Atari Jaguar CD
Atari Lynx
FM Towns Marty
NEC PCFX
NEC TurboDuo
NEC TurboGrafx CD
Nintendo DS
Nintendo Game Boy Advance
Nintendo Game Boy Color
Nintendo Game Boy
Nintendo GameCube
Nintendo N64
Nintendo NES3
Nintendo SNES2
Panasonic 3DO
Philips CDi 450
Sega CD
Sega CDX
Sega Dreamcast
Sega Game Gear
Sega Master System II
Sega MegaDrive II
Sega Saturn
SNK Neo-Geo CDZ
SNK Neo-Geo
Sony PS2
Sony PSone
Related Gaming Console Icon Links
These console icons are all over the place, but the quality lacks in comparison. A quick 5 minute search turned up a couple of websites for vector based icons of video gaming systems. These links contain a variety of images, from more modern systems like Playstation to consoles of the last 5-8 years like Game Cube, as well as some icons for game controllers and handheld gaming systems.
But again, someone created these icons with Illustrator or another vector package instead of using real photos. These are low res web images that would take some reworking, like cutting out backgrounds or re-drawing, to incorporate into your Mame system, ever more increasing your appreciation for the above icons.
Have any more websites with gaming console icon images with similar quality and preparation as the ones listed above? Did you generate images for your own Mame system of the individual consoles, or did they come with your front end? Did you find the original topic thread and can give me the link since I must have not bookmarked it? Leave a comment.
---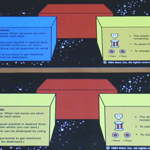 I came across Classicade.com this morning, Bret Pherson's website about his arcade games. Apparently he reproduced I, Robot monitor bezel stickers / bezel decals / bezel artwork, whatever you want to call them. He did both versions of the self adhesive bezel sticker, one was yellow and red, and the other bezel sticker was blue, red, and yellow, measuring 5-1/8″ x 15-1/4″. Visit Bret's writeup and website here.
I am sure most collectors know about this I, Robot artwork, the reproductions sold out. I would expect as much if Bret was the first person to ever do "I, Robot" reproduction artwork. But there were only so many Atari I, Robot machines made if you base the demand solely on collectors who would apply the artwork. I would guess if another run of artwork was done, more arcade collectors would buy it just to have it. But it is good to know that Bret has the artwork if he ever wants to do another run of I, Robot decals.
Now I wonder, what other pieces of the artwork for I, Robot have been reproduced? Does any other collector out there know? Do you have any links to sites?
---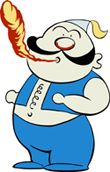 Today I started on vectorizing one of the Circus Charlie photos I straightened. The ringmaster artwork was fairly simple, and was one of the more clear photos I got.
The vector artwork will have to wait on the textured splatter effect on the colors. For now the colors are just solid. I would imagine eventually I will need to find a piece of NOS Circus Charlie sideart and get it scanned and use the scan for a raster effect.
---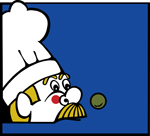 Today I finished another piece of the Food Fight Kickplate vector artwork, tracing the white chef near the upper left corner of the kickplate. The vector artwork was simple, and a breeze to do. I think the next piece will probably be right top corner with the other watermelon slices, since I traced one slice already on the kickplate lower left corner.
I know this particular section of Food Fight artwork looks weird, but the chef is the only full piece I had. The photo had pieces of other fruits and vegetables, but nothing in full, including a pie. I will probably need a close up photo of just those artwork items.
---
After about two months of follow up with a collector that had full sideart, late last week I got a series of decent photos that I can eventually use (when I clear my plate) to vectorize the sideart.
So, I took the time to vectorize the lettering, which was time consuming enough. Hope to have more to add to this section about Centuri / Konami's Circus Charlie vector sideart soon.
---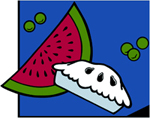 Got some time to start on the vector Atari's Food Fight kickplate artwork.
The colors don't match obviously, I haven't done any of that yet. Just getting the base artwork, which was fairly simple to vectorize. The dot pattern in the pie was the hardest part, and that may just be a smidegeon off, but is very close.
---
The Jr. Pac-man marquee is much more than started, I am about three days worth of work in (Visit KLOV for my forum topic). I did the little ground hog first with the bird, then the paint cans and then the grass. I feel like I have done some of the more complicated stuff on the marquee first, or at least I hope so. This Jr. Pac-man piece of vector artwork has been a lot of work so far.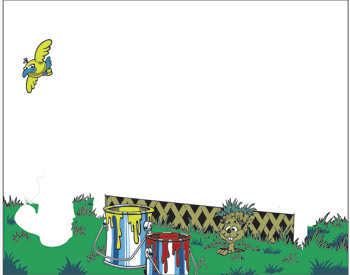 (This is the oversize marquee for the original game, like I have, not the condensed version that was in the conversion kits.)
The parts that have been a challenge so far has been, the color variations in the grass and the faded red on the paint bucket. My red was so faded that I could barely seen the manilla color differentiations on the white can. I did a best guess for now, and will check my work later. It is easy enough to change in this format.
I hope to do a little more later this week, but we'll see. The end of the week is shaping up to be busy for a change.
---