Unlike most classic arcade collectors, I don't have fond childhood memories of visiting arcades. I have fragments of memories of playing games in Chucky Cheese and the random on location video game at the local store, but I don't know that I ever visited a full fledged arcade.
Funspot is one of the few functioning arcades left in the United States, and some claim it is the world's largest arcade of classic video games. Located in Weirs Beach, NH, I doubt I will ever take a vacation that far north and east, so watching the walk-through videos of this arcade are exciting on two levels.
The videos of Funspot arcade are extensive, at over 9 minutes each. In the few minutes I watched I didn't see many "classic" arcade games by definition, but I am sure the classics are on the third level of the building, and I didn't get a chance to watch that far. Whether you appreciate the earlier arcade games, the mid 90's games, or today's complex brand of interactive entertainment, these videos of Funspot should be enjoyable to all.
---
Check out this photo of the Pac-man themed Christmas tree in Madrid Spain. All of the big blogs are reporting on it.
Here is the video of the classic arcade tree in action. You can see that it is loaded up with some festival themed Pac-man imagry, but it has all of Pac-man's old enemies, and they even move a little bit.
Here's the static image of the tree.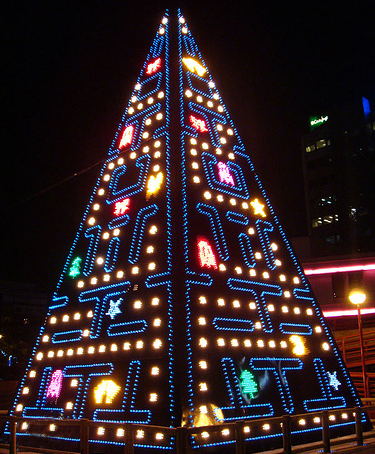 Lots of users commented on how cool it would be to be able to play the Pac-man tree. Possibly I am sure, but complicated. It is awesome to see how much of a global force Pac-man is and how much that character line is recognized and appreciated. Wouldn't it be cool if these guys in Madrid who made the Pac-man tree took some tips from my hometown lighting expert with the Trans Siberian Orchestra guy!
Some music a little more 8-Bit themed would be in order for the Pac-man tree, just as long as it didn't keep repeating:)
---