Here are a couple of great "De-Motivational" posters that were sent to me concerning Tom Brady and Bill Belichick of the Patriots. Take Note – The language in the first one is not exactly clean. But it's still funny. It's not always the best argument to demoralize someone else using your own improper english, but that adds to the fun:)
I don't know where they came from, but you have to believe that someone generated them using this de-motivational poster creating website (Despair, Inc.com). They're called "Epiphany" and "Karma". Enjoy. Brady and Belichick deserve it.
Any quarterback that plays successfully for Belichick-the jerk must adopt some of his mantras, "Win at all costs" and "Stomp off the field when you don't". Oh yeah, and "When no one is looking, videotape your opponent". The main point not being that they are sore losers, but that their both Belichick's and Brady's integrity has been called into question as well as their whole season because of the prohibited choices Bill made.
I have larger versions of these de-motivational super bowl posters. If you want a copy email me through the website. I am no longer emailing these to people, thanks for looking.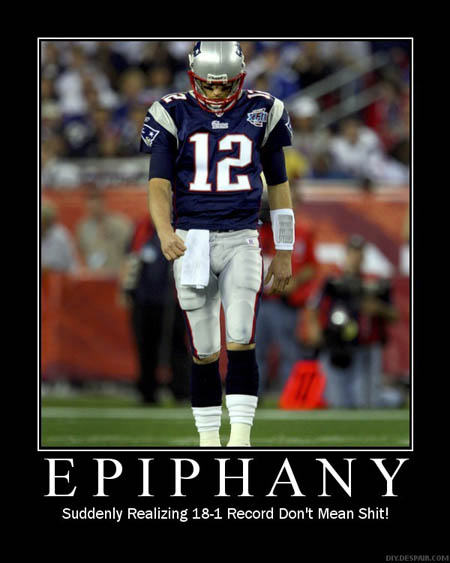 ---