Check out this photo of the Pac-man themed Christmas tree in Madrid Spain. All of the big blogs are reporting on it.
Here is the video of the classic arcade tree in action. You can see that it is loaded up with some festival themed Pac-man imagry, but it has all of Pac-man's old enemies, and they even move a little bit.
Here's the static image of the tree.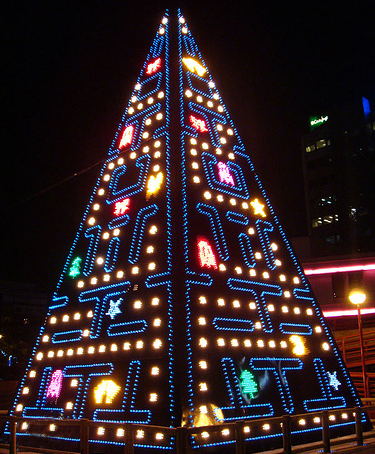 Lots of users commented on how cool it would be to be able to play the Pac-man tree. Possibly I am sure, but complicated. It is awesome to see how much of a global force Pac-man is and how much that character line is recognized and appreciated. Wouldn't it be cool if these guys in Madrid who made the Pac-man tree took some tips from my hometown lighting expert with the Trans Siberian Orchestra guy!
Some music a little more 8-Bit themed would be in order for the Pac-man tree, just as long as it didn't keep repeating:)
---