Late late last night I was up following the Tigers game and took the opportunity to post the raw transcript from the Steve Wiebe chat from Coinopspace.com in April. (more…)
---
Back in the first week of May, pinball and arcade enthusiasts alike spent over an hour and a half chatting live with John Carpenter at Coinopspace.com. John used to work at Data East and helped develop a whole slew of well known pinball machines. A number of interesting items came out, like where most of the Michael Jordan pinballs machines landed and a rare variant of Rocky and Bullwinkle.

---
Last night on Coinopspace.com Steve Wiebe dropped by for over an hour and a half to chat live(longer than expected) with members at the site. Although the chat was hardly perfect or smooth at times, it was a success in many ways….the most important being that over 35 individual members questions were answered live by Steve and over 90 members attended the chat. (more…)
---
The latest in my series of live chat sessions at Coinopspace.com, Steve Wiebe is going to be joining us on April 15th 2009. The only requirement to chat with Steve is to be a member of the website and you can ask any respectful question you want.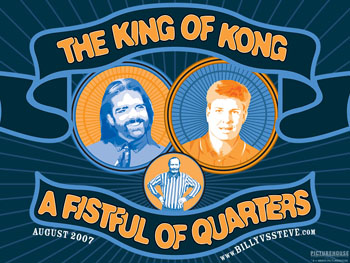 Getting ready to draft a promotional release on Steve hasn't been easy, and I certainly was a bit naive and tremendously lucky when he agreed to do the session. Instead of repeating everything that everyone already knows about Steve – He worked for Boeing, he's a math teacher and all the details surrounding his many attempts, I thought I'd share a little bit into my own timeline in arranging a chat session. Certainly the more interesting insights have the potential to be revealed when the fans get to connect with him in real time. (more…)
---
Over the last couple of weeks it felt like it was actually going to happen and today the Klov forums finally got an upgrade bringing their forum technology out of 1999 into modern day functionality. This is a pretty significant change, and I applaud Mark M. for what was a tremendous amount of work. Are the forums better though, here's what I think. (more…)
---
I was trying to finalize the www.coinopspace.com setup so that the old classicarcades.ning.com address no longer would work by itself, but would redirect. I seem to have broken something. (more…)
---
Tim Skelly was the first live creator chat (February 4th, 2009) at Coinopspace.com and everything went pretty smooth. Right around 50 members attended the event and Tim was nice enough to extend the session from an hour to just over 2! And as a result, most all members questions got answered and a few new insights were uncovered.
Here is the formatted version of that transcript. I have taken the information relevant to the conversation and formatted it so that the arcade history is more easy to pick out. The original chat was over 28 pages so paring this down was imperative for anyone serious about reading 🙂 (more…)
---