I would try to stay away from reposting information that was in the common arcade collecting groups, but I came across this post from Quarter Arcade about Mad Planet control panel overlay reproductions this morning just as it came across the wire. (more…)
---
Everyone knows that Rich at This Old Game does great work. But today, I get to show just a glimpse into some of the quality steps that Rich takes to make sure that he has great arcade reproductions and most importantly, great buzz in the collecting community which leads to return customers.
On ThisOldGame.com, Rich has a section talking about his current ongoing projects, aptly named "Projects". You should check it out. From Burgertime and Galaxian to Return of the Jedi and the now well publicized Agent X, Rich has a ton of ongoing arcade reproduction projects that customers have contracted with him to produce.
One of those projects is Bump N Jump control panel overlay reproductions. Today, I have photos showing a little bit of the color matching process and color tests that Rich went through on for the orange on the Bump N Jump artwork.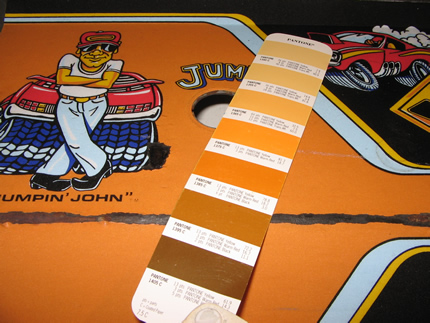 Here we see the original Bump N Jump sample for color matching, overlaid with a range of orange's from the Pantone Coated book. If you click on the image, you can see that the closest match to the original burnt orange of the control panel is PMS #1385.
PMS #1385 gives us the breakdown of the different colors mixed to get this shade of orange;
78.8% Yellow
18.2% Warm Red
3% Black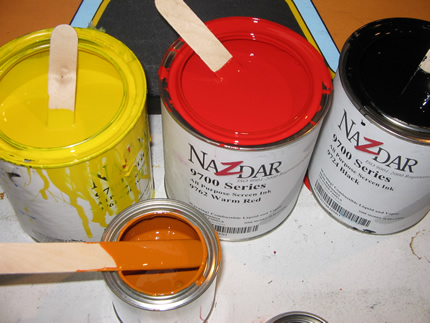 Time to mix the colors. Here we have NAZDAR 9700 Series of all purpose screen inks, a 9762 Warm Red, 9724 Black and I can't see the Yellow. You can also see the final orange mix in the lower left after adding in the correct percentages. I don't understand how the colors are measured out of the bigger containers, is it with a measuring cup of some sort? Rich is the expert, I am sure he'll comment and give me some insight about that.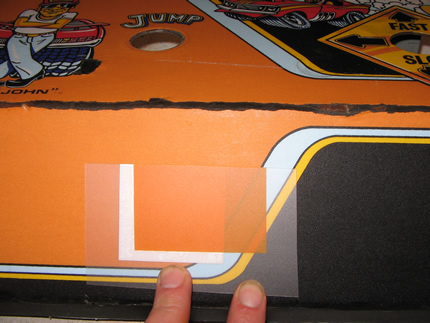 As Rich has mentioned in the past, and now I am starting to understand, the inks are slightly transparent, as you can see in the photo above. (Right Half) The inks are laid down on the raw, clear polycarbonate, and then backed with white, (Left Half) which takes away the transparency and makes them more brilliant. In the first test here, the burnt orange is a little too bright.
How does he do test screens? Does he have a little film to apply the colors evenly for testing purposes?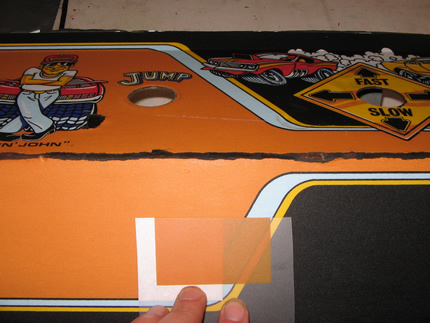 Added a little black to the original formula, and the color is "On like Donkey Kong"!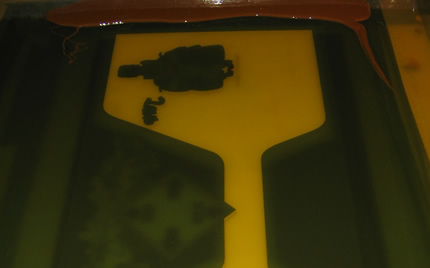 Now all that is left is to screen the orange. In this photo we see just the orange film. I can't see the registration marks, but I am sure they are there. Can you point them out Rich?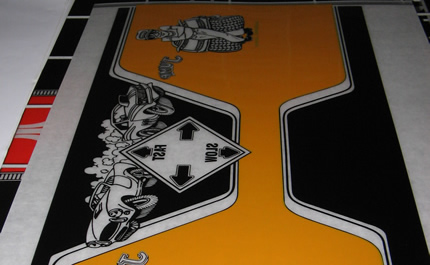 And here we see the final piece after the orange is laid down. The printing is done on back of the polycarbonate in reverse, not on the front. The back is where the 3M is adhered for application to the games.
The first color laid down was the black with bleeds, and now the second color was the orange laid down on top of the blacks. I had originally thought that there was a white flood laid down first, but that must be paper underneath the polycarbonate on the drying rack, because laying down white first just doesn't make sense.
Either way, thanks to Rich for an insight into the printing process, and hopefully he'll continue to have a few minutes here and there to provide more information to those of us that are interested about the process between all of his printing jobs.
So, remember, if you don't have a printer yet for your arcade reproductions, you will want to look up Rich at Thisoldgame.com

You got it here first, exclusive content about the Bump N Jump control panel reproductions at Rotheblog.com.
---
Today is the day of Williams Sinistar.
Surfing Klov there was a mention that Quarter Arcade is doing reproduction artwork for William's Sinistar control panel overlays. Here are the photos;
I emailed Anthony at Quarter Arcade, and he was nice enough to let me know that Darin at Phoenix Arcade did these Sinistar CPO's and he just had a few he bought and now is re-selling them. I visited Phoenix Arcade, and I must have missed the listing of Sinistar before. Maybe the control panel overlay's had sold out before 2006 when I got into collecting.
I would guess that Phoenix Arcade might have had the original Williams Sinistar films. I did a quick search on both Google and the arcade.collecting usenet group to see if there was a mention of the Williams films but I didn't turn up much of anything I didn't already know. I already knew that Darin produced the Multi Williams artwork for a number of successful runs up to 2004 and then he ebayed the files. I also found a mention to Illinois Pinball.com, but I assume they would have Williams films for for pinball artwork.
Any of the Sinistar artwork is a challenge to reproduce because of the detail in the splatter / speckle / pointilism effects. Like always, Darin did an awesome job, whether he scanned an NOS CPO or he had access to the original Sinistar films. Wikipedia says gives credit to Noah Falstein and John Newcomer for co-developing Sinistar. I don't know which of them actually created the artwork, but maybe they were the inspiration for the "Idle Hands" movie:) (Surely, you must have a love of detail to create artwork like that, it would make you, and your hand crazy way before completion.)
Since I already "hunger" to share Sinistar news, how about jkoolpe in San Francisco scoring a Home Use Only (HUO) Sinistar.
Here is some backstory on his Sinistar Aquisition;
According to the guy I got this from, this baby was originally owned by a Cinematronics game designer…he also had a Boxing Bugs as this was the game that this previous owner had helped design (a fellow CAX staffer got the BB).

The Boxing Bugs designer who originally owned this machine was named Jack Ritter. For whatever reason, he apparently did not take the 3 games he had owned with him when he moved from my area and the new home owner assumed custody.

The 3rd game was a Defender that I think was also HUO (not 100% sure), but it needed a marquee and bezel, and the CPO was lifting. Otherwise, the cabinet was also in GREAT shape and worked fine (after I replaced one RAM chip)…he is also looking to sell it so someone will get a nice Defender once they replace the aforementioned items.
I still haven't played Sinistar in person, but I love it on the William's game collections for the playstation, even if playing causes pre-mature arthitis. I am sure as time goes on, over the next 20 years, as we see some of the original developers move into the later stages of life some of their classic games, artwork, notes and other materials will start to come up for sale. But Jon (jkoolpe) got a find this time and bragging rights for the week.
---
A topic came up on KLOV last night via Brian Koening in WI. He got two NOS Pengo control panel overlays in a bulk buy from an operator. Now, there haven't been an overwhelming amount of people, but it seems as though there are a lot of people who like Pengo, and their control panels have some sort of damage. There have been topics in the past about whether NOS even existed.
Brian is talking about having the CPO's done on an inkjet and then laminated. Oy! You have got to be kidding me. He has a guy he has an allegience with and wants him to do the Pengo reproductions.
Brian doesn't answer my emails, I must have done something wrong. But as luck would have it, I was revisiting some arcade collectors websites yesterday. I was on Appolo's arcade website, and at one time they had a NOS Pengo CPO that they were talking about scanning and vectorizing.
So, I emailed Dawn asking if I could get a scan of the Pengo CPO.
We'll have to see what she says. From reading their site, they have a ton of turnover in games and may not have it anymore. And she may not give me a scan, or even let me buy a scan or trade for it. Who knows, they don't know me from anyone else.
I just hope we don't have to have the first round of reproductions for any of the Pengo artwork be inkjet laminates.
Watch for updates here.
---