Last night Pat C. headed out with Kent M. to the Super Auctions preview. Just like the Indianapolis USAmusment auctions, you can take a gander at the games as they come in before the auction actually begins on Saturday morning. Pickings were pretty sparse, but there are a handful of classics which include a Missile Command and a couple of other games that aren't too common. (more…)
---
Ha ha. This just came back on Craigslist. I was hoping it would, I missed writing about it the first time around.
The original arcade of Donkey Kong from 1981. Needs some work, but could be worth thousands$$$! Call Brad
$1,000's you say. Well shoot, time to round up muther and head over there in the pickup to make some moolah. (more…)
---
Soon after I posted about developing some arcade blog wordpress themes, Rich at This Old Game had expressed some interest in having me do a design for his Donkey Kong 2 artwork package page. Today, I quickly designed and coded that page from scratch and it is now online at Thisoldgame.com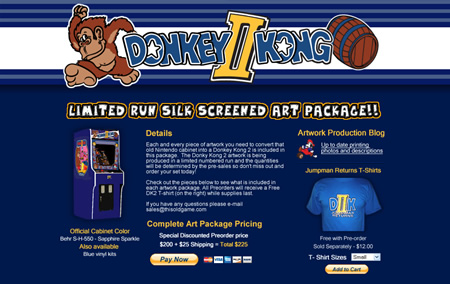 ---
I was surfing a collector's website the other night (Brian Brzezicki) and I came across photos of his Mame machine. It is an old Dig Dug cabinet painted solid black, like most Mame cabs, but this particular machine caught my attention. Check out that custom side art! Isn't that cool? It's an illustration using some of the most popular arcade characters like Donkey Kong, Pengo, Pac-man and Dig Dug.
Tim Wann did the custom art, but you won't find the piece on his website for obvious reasons. Makes me briefly think about doing my own custom art since I have such great illustration skills (which I may have some news about in the coming months), but at first blush, it would seem custom side art and other artwork would only work for Mame machines. Even then, it seems a lot of Mame guys like solid black, don't have a lot of appreciation for the original art (ie lighting bolt or fire themes), and seem to like mid 90's games. I find this Dig Dug Mame really refreshing.
Update – September 16th, 2009
Here is a larger version of that custom arcade illustration with Dig Dug and Pengo. Thanks Tim for the link.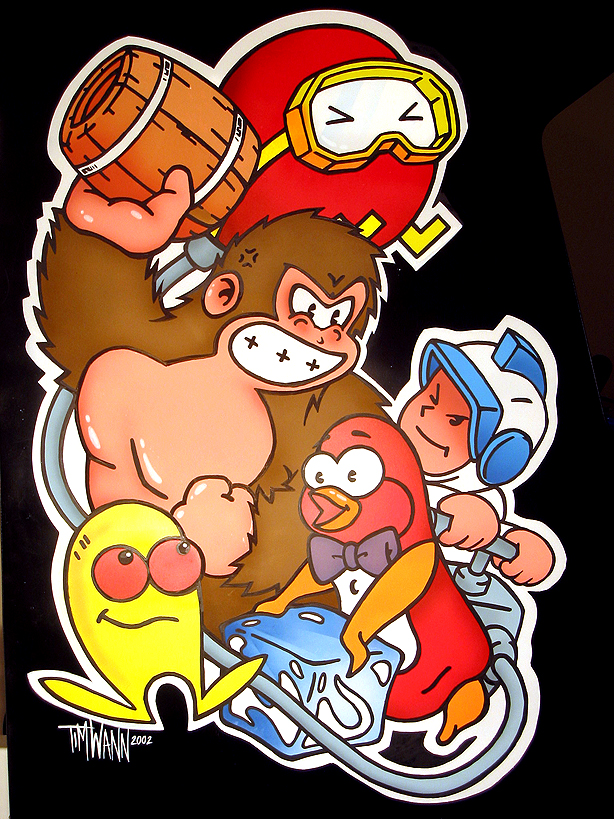 ---