Looking for retro arcade game themed items to decorate your home gameroom? Last month Bill Johnston reproduced the Galaga War Games graphic, a unique piece of promotional arcade game artwork for the War Games movie. Bill had the Galaga headers digitally printed on vinyl and left the method of display up to the individual. There are plenty of choices for ways to mount the artwork, here is a tip on how to secure the header on top of your Galaga that will cost you less than a dollar and potentially take less than 20 minutes.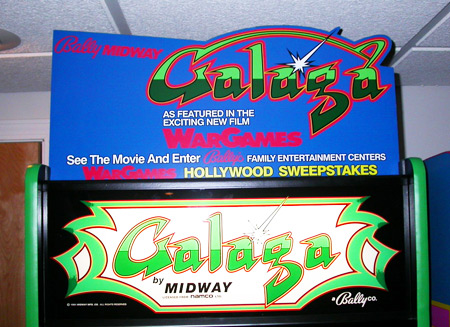 ---
I've been in contact on and off with an individual in the area that has a small cache of arcade cabinets for sale. They moved out of the area, so coordinating with them has been difficult over the past two years. But I finally got some photos of what empty cabinets they have, four in total and three of them are Midway cabinets that were probably Pac-mans or Galagas at one time.

---
After we got back tonight, Sarah and I moved the Jr. Pac-man into the basement. Before we left on Friday the monitor connector had arrived, so the only thing left to do is put in the monitor in the cabinet.
It was really hot this weekend, after looking at the Jr. Pac cabinet closer I felt like it had warped a little bit. I had to put that out of my mind, there was nothing I could do about the cabinet now, just that much more important to get Jr. Pac inside tonight.
Jr. Pac-man was the hardest game we have moved so far. The unique Bally cabinet was just a touch wider than the base of the steps where the turn is always hard, so it took some fancy maneuvering to keep the game and walls safe and get it to the back room.

But, looks cool either way. Pretty basic and less than special when it comes to some of the gamerooms I have seen, including one this weekend, but that is going to have to do for now.
This is also the first photo with the new Ikea stools. Never liked round stools much, and after visiting Chris Moore's gameroom this weekend, I saw a couple of different stools he had that he got from Ikea. Sarah loves the store, I had never been, so it just made sense to go and I am really happy about the choice and that I waited.
Now all I need is a real Mr. Do, a Galaga cocktail out in the main room somewhere, and, well, I'll still sit on the pinball. I don't even know how that would work.
---