Yesterday I made a trip up to the Fishers on the northside of Indianapolis to check out Ace Gameroom, which opened it's doors in November of 2008. Ace Game Room sells everything you might need for your upper end gameroom, neon signs, pool tables, bars and of course, arcade games and pinball machines. This isn't necessarily something that your average collector is interested in as they tend to decoration their gamerooms with one of kind signs and classic authentic game artwork. However, Ace Game Room is smart in that they have positioned themselves as the pinball collectors friend, and I was impressed.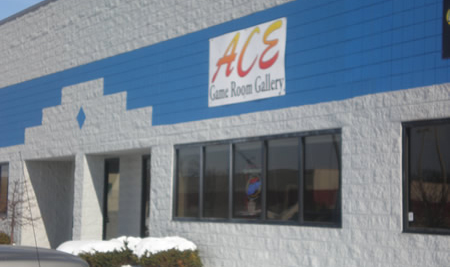 ---
Got a comment last nice on one of my Pengo high score posts from a guy named Dave who runs a website called BrickPlayer. He wanted to show me some of his wall mountable arcade character art made out of flat legos, in this instance a mosaic of Pengo and a Sno-Bee with some Ice Blocks. Pretty simple idea, I checked out the website but I didn't see a section to buy a kit just yet, and that might be good. I am not sure that this artwork for arcade gameroom decoration is a fully realized concept. (more…)
---
After we got back tonight, Sarah and I moved the Jr. Pac-man into the basement. Before we left on Friday the monitor connector had arrived, so the only thing left to do is put in the monitor in the cabinet.
It was really hot this weekend, after looking at the Jr. Pac cabinet closer I felt like it had warped a little bit. I had to put that out of my mind, there was nothing I could do about the cabinet now, just that much more important to get Jr. Pac inside tonight.
Jr. Pac-man was the hardest game we have moved so far. The unique Bally cabinet was just a touch wider than the base of the steps where the turn is always hard, so it took some fancy maneuvering to keep the game and walls safe and get it to the back room.

But, looks cool either way. Pretty basic and less than special when it comes to some of the gamerooms I have seen, including one this weekend, but that is going to have to do for now.
This is also the first photo with the new Ikea stools. Never liked round stools much, and after visiting Chris Moore's gameroom this weekend, I saw a couple of different stools he had that he got from Ikea. Sarah loves the store, I had never been, so it just made sense to go and I am really happy about the choice and that I waited.
Now all I need is a real Mr. Do, a Galaga cocktail out in the main room somewhere, and, well, I'll still sit on the pinball. I don't even know how that would work.
---