For seven years I've been writing about a weird Mr. Do! cabinet, a white cabinet with illustrated artwork. There have been a number of cabinets with the same shape, and the artwork is similar, including a pink themed Ladybug. In Aug. 2009, I had an indication that this style of cabinet was licensed and product by Tehkan.
Today, I have a different theory – with some new photo insights. (more…)
---
Yet again, talk of that rare white Mr. Do! arcade cabinet came up this weekend. Someone forwarded me a link for a strange looking Popeye conversion that has what appears to be some Jungle King / Jungle Hunt artwork but the interesting thing is that, while the bezel and marquee are Popeye, the control panel and kickplate artwork look just like the white Mr. Do!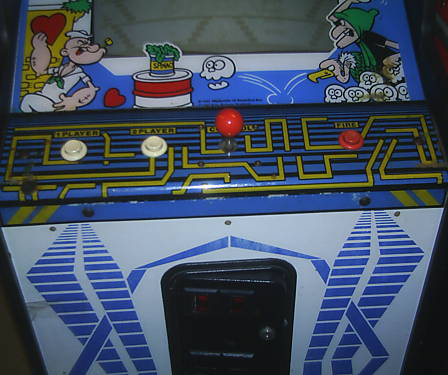 ---
I had someone contact me on my post earlier this week on another mention of white Mr. Do! machines in upstate New York. They said that these Mr. Do! machines were very similar to Crazy Kong and Crazy Kong Jr. cabinets made by Falcon. Same cabinet design same 'water soluble sideart' (This was an interesting comment, the idea being that the sideart would come off with water whether it was soluble or not).
I checked Xmission for photos of the cabinet without any luck. I also posted on the Klov forums looking for better photos of the Crazy Kong cabinet. It was not surprising that I got little help. But I did find one other decent photo and I can see some of the similarities in the cabinet design. Here they are. (more…)
---
Was online talking to g3n3r1c (Klov forums) tonight about reproduction artwork and he mentioned that he used to work for an auction house in Royal Oak called SkyRocket Amusements. Not only did 200+ games come through per week, he said that he saw one of the white Mr. Do!'s. (more…)
---
Interesting topic going on right now on the klov forums. One user was looking at the Mr. Do! entry on klov.com, and wondering which of the three versions there was the original dedicated. The correct answer is that there is more than one Mr. Do! that is "factory" dedicated, but only one directly from Universal.
Here is an exerpt from one user;
The other "dedicated" units were done by ops who wanted the games to look as good as possible. I have an old Play Meter article that talks about a lot of vending companies going out of their way to make Mr. Do! kits look like dedicated games… some even making cabinets just for them.

Lost in the collecting world is the fact that, in 1983, Mr. Do! was one of the biggest hits. 7th highest earning game that year, meaning only 6 dedicated games in 1983 out-earned Do!. 30,000 legal Mr. Do! kits were sold, roughly 10 times more than most Golden Tee kits sold nowadays. Only about 2,000 dedicated Do's were sold.
Opinion or not, pretty interesting information of how many Universal Mr. Do! units were sold vs. conversion kits. Even more interesting is a quote from another member here in Indiana (Shacklefurd) that actually investigated into my coveted White Mr. Do! cabinet with clown artwork;
A had series of E-mails with the former CEO of universal from the 80's a while back and here is what he said. The white one with the red yellow and orange strips came from Japan. The wood grain and the white with the clown side art were factory built by smaller companies on the east and west coast that bought the rights to release Mr. Do and other Universal games. So they are all "Dedicated", but the Universal from Japan is the one collectors think of as dedicated.
I should get in touch with Shackle and see if he has the CEO's information still and try to track down the company that made the White Mr. Do!
Until this forum thread surfaced, I had posted here that I was thinking it was a company by the name of Gleeb who made the cabinets and that Gleeb was also based out of Japan, not here in the USA.
Update: July 2013 I now have photos from inside two different Ladybug machines, machines that have very similar painted illustrated artwork to the white Mr. Do!, that show Universal serial numbers. Check out this post on two different factory Mr. Do!s.
---