Soon after I got my $50 Mad Planets deal, I wasn't sure that I was going to finish turning the underlay artwork into vectors before I picked the game up and brought it back to Indianapolis. But Rory B. stepped up, got his NOS Mad Planets Underlay scanned and sent me a copy of that scan to finish tracing the artwork when possible. (more…)
---
I've had little bits of time here and there, some in the hospital, where I was able to work on vectorizing the Mad Planets artwork that is under the control panel facing forward, which I'm referring to as the 'Underlay' to keep it simple. However, with my $50 Mad Planets Craigslist deal last week, it appears that I don't 'have' to finish this artwork. But I like the game enough that I may…. (more…)
---
I love getting packages in the mail, especially when you generally know when they're coming but not when. We were away from home over the weekend, but when I got home there was a package sitting at home waiting for me with some more pieces for my Mad Planets, pieces I wasn't sure I could get but then became available this week and now they're in hand. (more…)
---
Back in November of 2008 I played Mad Planets for the first time and knew that I had to have one for my collection. I am not sure that has ever happened to me before, and I knew when a member at Coinopspace.com posted in the Mad Planets group that they had just about all of the guts for one and were looking to sell them that this was a unique opportunity and I couldn't pass it up. Today when I got home, the boxes were sitting on the doorstep.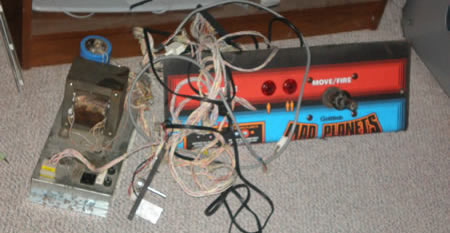 ---
I cranked through this Mad Planets artwork this week, knowing the end of the week and weekend would be busy busy and after a little hiatus since my last vector project in the Rally-X control panel, I was in the zone to finish this bezel. I am really pumped, the artwork was pretty tedious in portions and I'm happy to have it finished and ready for the next piece. (more…)
---
I was in the mood yesterday to do some tracing of arcade artwork, so I started working on the Mad Planets bezel. The high resolution bezel scan is available from a couple of different sources and from what I can tell appears to be an accurate file. The artwork itself is fairly boring, it's a good supporting piece for the whole cabinet, but if you compare the level of detail and composition this bezel artwork won't floor you. But tracing it, that's another story. (more…)
---
If you have no understanding of who Tim Skelly is you probably haven't typed up a search in Google. The talented Tim Skelly developed a ton of fan favorite games, pushing the envelope of interactive gaming at the time and he was just in his late 20's. Games like Rip Off, Armor Attack and War of the Worlds are just a few of his credits, and on February 4th, 2009 Tim will be chatting with the arcade community at CoinOpSpace.com. Read on for more details and how to join in.

---