I was doing some searching on Flickr about a week and a half ago for some photos of arcade machine or two and stumbled across this fun illustration of Pac-man mowing through a ghost. You haven't seen anything quite like this before. (more…)
---
Looking through my feeds today for some design ideas I came across a post that had an awesome piece of arcade themed artwork in it! Check out this Space Invaders, Pac-man and much more-piece below. Oh, and to me this one doesn't even scratch the surface of some of the work of this Guilherme Marconi! Makes me feel awestruck inspired and silly all at once.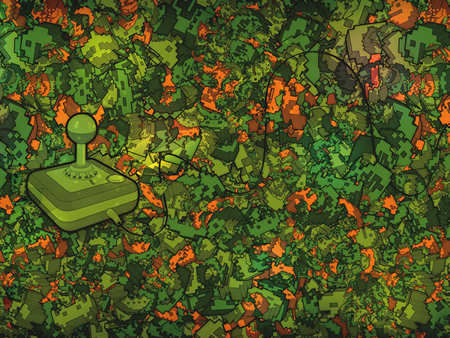 ---
The last three months of 2007 have been possibly the busiest in my life. I was balancing studying for the GMAT an hour, to an hour and a half a night, plus, I was touching up nearly 900 slides from my childhood for a gift to my parents, and…I was also approached to do portrait illustrations for my sister of her husband's niece and nephew for a Christmas gift.
The illustrations didn't get finished until December 24th, but they did get done. I was happy with portions of them, but not 100% satisfied. But given the timeframes and the conditions that I had to do the illustrations, they were good enough and the general audience will think they were very good. Not to mention, I don't think I have drawn at all over the past year, so I had some rust to shake off.
I ended up doing the illustrations on a heavy, textured bristol board, at least 60lb with a HB lead pencil, so my darks aren't really black….
Here they are, my parents scanner is pretty bad, the illustration of the girl I just gave up and took a photo instead;
This is the response I got in email for the illustrations…
I can't possibly thank you enough for the drawings. You are obviously a perfectionist, they look exactly like the children. I'm taking them in next week to be framed. They will be cherished forever.

We truly appreciate you taking the time during the busy holidays. We hope you had a wonderful Christmas and a prosperous new year.
---