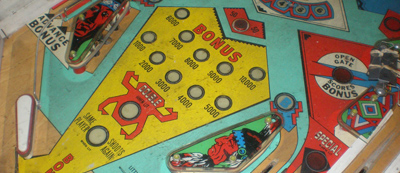 That was pretty easy! I found a buyer named Dan in Carmel who came over yesterday and bought the Williams Little Chief off the owner in Castleton.
We helped our own cause in the sale when the owner put the game back together first, including the back display back. I found out later it had not been attached in two years, so I was relieved the pinball still worked. He powered up the game, it was a little glitchy at first but did play a couple of full games. The buyer says that the Little Chief needed an adjustment made to the main logic in relation to the scoring unit, and the "gate" needed some work as well. But a great deal on a classic pinball in the Indianapolis area.
The Night Rider pinball machine is still for sale. Hope to get some video of that pinball in action soon. $400 and it's yours.
Edit ~ I find this a little strange. I had never heard of Little Chief before, but all of a sudden a second machine comes up for sale in Rossville, IN on Craigslist? I don't think this was our buyer, that would be really rotten to relist for $1900, but it is another nice looking instance of this Williams pinball, even if the seller (765-379-2429) has the year and the name are wrong.
---
Someone in the Indianapolis area contacted me about these two pinballs that they have for sale. One is a William's Little Chief and the other is a Bally Night Rider. Both were bought new from the factory back in the 70's and have only ever been used in a home setting, the Little Chief doesn't even have coin mechs in it. However, the cabinets have a little more wear and tear to them than a normal HUO pinball / arcade game machine.
Click on the thumbnails above to check out the galleries for more images of the games (Little Chief – Left, Night Rider – Right). I tried to get as many photos of them as I could, the playfield, the condition of the cabinet, the backglass, etc. etc. I am not a huge pinball guy myself, but I told the guy that I would see what I could do to sell the pinball machines for him. He is looking for $650 for the pair, OBO. The Little Chief works, and you can see that the Night Rider powers up, but he said there was something funny about one of the connections in that pinball. I didn't play either of them, kind of crunched for time. I wouldn't know what to look for if there was anything wrong with the Bally Night Rider at all.
If you are interested at all in these two classic pinballs, let me know. I am going to hold out on my own personal search until I find a more recent pin, like a Batman or a Jurassic Park or something to add to my gameroom:)
---