The thought had crossed my mind to submit CoinOpSpace.com arcade game network to to spotlight on the Ning blog. I see about 4-5 sites spotlit a day, but most of them have in the 1,000 member range. I thought, I'll send it to them when we have about 500 members, at least that is fairly significant. Low and behold, they found us and wrote a little review on our classic arcade game site without my prompting.

---
Short post today that will only interest a few. Here is a short explanation on how to turn off the autoplay option for music on a profile page on CoinOpSpace.com which runs on the Ning software. (more…)
---
Just a short note to let everyone know that I closed up shop on my six month lived Facebook group for arcade collectors. With all of the time that will go into the CoinOpSpace.com arcade game forum and with the strength of numbers in the Arcade Junkies arcade collectors Facebook group, there seemed no need to continue. The question is whether Arcade Junkies will continue to grow.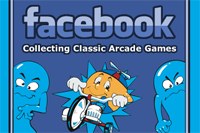 ---
This post is very much targeted to address some of the questions about how Ning has structured the use of their forums. I hope that this answers some questions that I have been getting. To state again, the Ning forums are just a piece of the overall picture of creating a user community. The forums are not nearly as in depth as something like vBulletin, they are very stripped down to what is needed – reply, add images and some basic formatting. But some of the common quick links are available. (more…)
---
Just a short note, and an exciting note I've been early awaiting to announce since last week.
We have a donor that offered to pay the first year of ad removal from CoinOpSpace.com – Arcade Game Forum. Awesome and generous donation, but one that speaks for the commitment to this MySpace like Social Network to take off.

---
Tonight I finished what I anticipate will be the initial offering of banners, logos, and other promotional graphics for my new arcade game forum at CoinOpSpace.com. I have tried to offering a quick smattering of graphics that collectors might desire to place on their own websites, but I am looking for feedback on what additional sized graphics, colored backgrounds, you would be looking for.

---
I promised that once we hit 75 members at my new arcade forum CoinOpSpace.com I would do a design. I had started before we cross the 75 member mark, but today I sat down and worked really hard to try to finalize something.
I did fail in my first attempt, but that misfire led me to the second attempt which I was really happy how that turned out. (more…)
---