You want to buy your first arcade game or pinball machine and you have found a vendor is selling your favorite game for a decent amount of money, something ranging from $800-$2500 or so, maybe more, maybe less. You've seen these same games sell for less on eBay and you've been monitoring Craigslist and noticed that some games there are even given away for free. I just want a working game, what are my options? We'll touch a little bit on that in this post. (more…)
---
Only two months after acquiring the two blue Nintendo arcade cabinets on the north side of Indianapolis, the second one is sold and gone.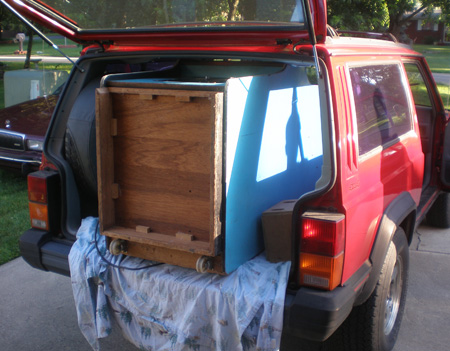 ---
Late last week I had a voicemail from a guy who had seen one of my listings and said he had two games in his garage that he wanted to sell. He said he had a Popeye and what he called a "dual chip" Top Gun. He wasn't able to provide photos unfortunately, so sight unseen I arranged for a truck and headed up to the northside of Indianapolis to see what he had. (more…)
---
I will post more on this later, but here is a photo of a couple of the arcade games to give you an idea. I wished now I had taken a straight on view of one of the four storage units of games, but I didn't, so this will have to suffice.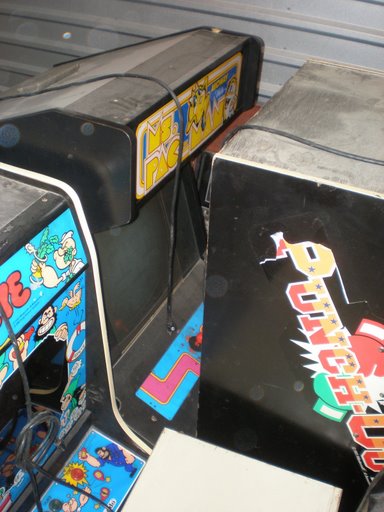 We see a crappy Ms. Pac-man conversion, a Popeye that is in decent condition, it is missing sideart on the right side, and Super Punch Out, missing the Duck Pull from the control panel and the "Punch Out" sideart is torn up a little on both sides.
There are many other games, about 30 total. I am going to get my stuff together and then post a photo album of about 95 photos of this stash of arcade games here in Indianapolis, IN.
---