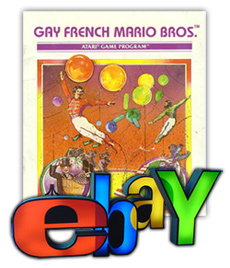 The results are in, the auctions have ended and the final results are in for the first round of the recently unearthed, unapplied arcade game artwork from the QuarterArcade.com warehouse raid. There were a handful of pieces that went for over $200! That price leaves some of us spinning, and others….well as gay as french Mario, trapeze and all.
Richard Ford was in the mix again proving that he will always set the standard for the value of NOS arcade game artwork. Check out some of the results after the jump. (more…)
---
Just a short update to the post I originally did announcing the QuarterArcade.com bulk warehouse arcade game buy in Schwenksville, PA, Anthony has released photos of the 5 laser disc arcade games from that lot. The original bulk buy teaser photo showed 4 of the 5 laser disc games, the complete list being Space Ace x2, Dragon's Lair, Thayer's Quest and Firefox (not pictured originally).
---
I snagged some of the photos from QuarterArcade.com's auctions for the warehouse arcade game artwork auctions on eBaby and added them to the NOS artwork gallery. If you don't plan on bidding, but just want to see more images of the newly uncovered and unrolled cabinet artwork, check out that gallery again.
---
Another update from Anthony at QuarterArcade.com on the arcade game warehouse discovery in PA. We know he got a large quantity of NOS (New Old Stock – Unused old arcade artwork) in the warehouse buy and today we have a more comprehensive list with some photos. The tip of the iceberg, take a look at this photo below showing the rolls of new sideart, I can see Tempest (4th Lft), Eagle, Black Widow (5th rt) and Mylstar (4th rt). Click through the jump to read a more comprehensive list of the game artwork and buying details.
---