We went to Petsmart last weekend to see the puppies.
There was a one year old full bred Shar-Pei there, exact same coloring, similar tail curl and the exact same coloring right behind both of it's shoulder blades Nokes has this extra fur that is lighter in color right behind his front legs, and we thought that was weird. But this dog, "Zeus", had he exact same coloring.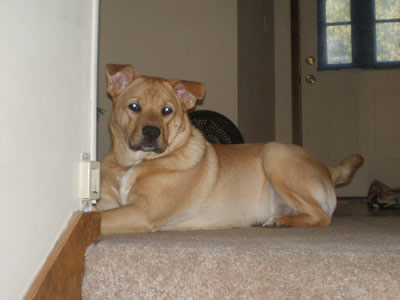 Granted, the head was significantly different. Nokes has wrinkles, but not like a Shar-Pei, but that was the main and seemed to be the only difference. Even the size was exactly the same.
A fellow friend and dog owner told me recently that Nokes has a retriever nose, and they would seem to have some expertise because they had a DNA test done on their dog because the curiosity killed them.
So right now, I think, Nokes is Golden Retriever because of the coloring and nose, Shepherd from the coloring on his chest, and Shar-Pei because of what I said above. DNA testing is really tempting. If it was like $50 I would do it, my curiosity is that high. I was told that the DNA test can only check for about 300 breeds of dogs. I don't know how true that is, I haven't researched it. But I would hope my guesses aren't too far off, and I would think they would be able to check for those three breeds.
---
Originally, today, both Sarah and I were supposed to go downtown to do the thanksgiving baskets with the Revive Group as a servant project. But, since I got out of work so late last night which messed up my lifting plans, I went this morning instead. Dave and I had a tough week getting to the gym, and this was really important to me. I gave Sarah the option of waiting for me until I got back to go down, or she could go without me. She went without me, and she was done really early because by the time I got back just after 10, she was home again. There wasn't that much to do, so it probably worked out for the best.
We went out and ran some errands. We finally got me some new shoes, we stopped and got some wax for Sarah's new paraffin bath, and the third stop we made was at Petsmart. I had been meaning to go look at the puppies, we had gone a couple of times with no luck since we got Nokes last February. We saw a full bred Shar-pie there, and we knew we were meant to stop by today. This dog looked exactly like Nokes, the coloring, the size, the tail, except for the head which was obviously different. But we are convinced that Nokes must be a Shar-Pei, Retriever, Shepherd mix. The dog was cute, named Zeus, with big slobbery jowls.
We left without another dog, good for us. We made a couple more stops, including picking up a new bone for Nokes, before getting back just around 1 pm.
I got right to work. I had intentions today to do a full GMAT before our plans later started. I worked hard, but didn't quite start early enough, and I had to stop at about 4:40, with the last section left at 1:15, and our dinner plans starting at 6. I was bummed that I had to stop the test, but I was hoping that I could come back to that section, it looked as if the test was on pause.
So, while Sarah got ready, I played some Jr. Pac-man. We still didn't leave on time, I almost cold have completed the test.
We met up with Dave, Paula, Katie and Patrick at the Oaken Barrel in Greenwood. I know one of the guys who started the restaurant, this was one of the places I had always wanted to try. It was Dave's birthday, he's a youngen', and he wanted to go out for dinner and then do One Liner's Comedy Club afterwards. Worked out great, two things I had been meaning to try.
Dinner was very good, and Dave got a desert for free in the end. It was a good time.
One Liner's, now that was something else. I had thought, "You know, I should do a long writeup on this place". The service was horrendous, abhorrent if you will. But our main Comedian was hilarious, so it was a little bit of a paradox. I thought I could do a long writeup on him too, but it is hard for me to focus long enough on those things that are less important with so many very important things going on right now.
So, the service. It was like they were running credits cards by hand via the Pony Express. It was so slow, they had one person running the checkin and even that person's pace seemed comical in how long it was taking. The second guy that came up front was not nice to people coming in, was short with them when asked simple questions like "Where do I go after I have my tickets". If you hadn't been there before, screw ya', because we weren't telling you where the main stage is. For a new timer, it wasn't apparent to us that was for sure. Just a low class operation that looks terrible on the inside.
Once inside the stage area, again, pretty low-quality. Granted, I haven't been to a comedy club before, so this sets the bar for me. I hope there are other places that are a little bit nicer. Maybe in proportion, the cost for admission is lower, so they don't have as much money to keep things clean, or have walls instead of black curtains. I don't know… In relation to the cost, they force you to buy two things off the menu, which is a croc too. I would almost rather pay 2-3 dollar more per ticket then to feel this social pressure to buy something off the menu just because. We just had a huge dinner, and I didn't feel like eating or drinking anything else. Not to mention, I had a GMAT to come home to, so I wasn't drinking any beer that would make me sleepy. Just low class I thought.
So, the first comedian, Will C, no creativity laced with a ton of crass, offensive, and attempted shocking humor. We were glad to see him leave.
But Michael Mack, the main performer, Great! Very creative in his stand up. He did the whole singing comedy with a guitar. Some of the songs were short, some were long, but they were funny. That wasn't the original part. He had a couple of bits that were something I hadn't seen before. He grabbed some names from the crowd, women's names, turned the lights down low, and then just singled people out and sang a song about them. The names were randomly matched with whatever person he saw, but he did some great ad libbing, and the planning songs were funny. Then, the last bit, was faces of rock. This left everyone shocked and roaring with laughter. I personally loved the Queen Song Bohemian Rhapsody, he did an awesome job from there to the end. I would go see him again with someone who hadn't. He was crass and vulgar, but at least it was mixed in so it didn't feel like he was hitting you over the head with it.
After the show was over, everyone pretty much went home. It was an early night.
It wasn't until I got home that I found out that my test timed out. I was upset, that I had essentially wasted one of my practice tests. But, now I know. It truly is like the real thing, even though it is on the home computer. I studied a little bit and went to bed.
---