I was doing some searching on Flickr about a week and a half ago for some photos of arcade machine or two and stumbled across this fun illustration of Pac-man mowing through a ghost. You haven't seen anything quite like this before. (more…)
---
A quick post today, this past week a Sinistar shirt sold on ebay for $25. What a grabbing headline right? Well, this shirt was one of 25-30 that were made in a limited run for the original Sinistar development team while they were still at Williams. That's a little better. The shirt was worn, had some light discoloration, but the important thing is the story that came along with it. (more…)
---
Back in July Mike Doyle and I had been writing emails back and forth and he had told mentioned some sparse details about the 7-11 Q*Bert discovery. We did some email back and forth but Mike is a busy guy and I never got the details of his story. But, he did remembered me as he and Dave teamed up again to release another round of the 6 in 1 Q*Bert kits (Now 7 in 1 with the 7-Eleven version). They've got a new T-Shirt with the fun little multi game and I think it is a cooler revision to the original Q*Bert Multikit t-shirt.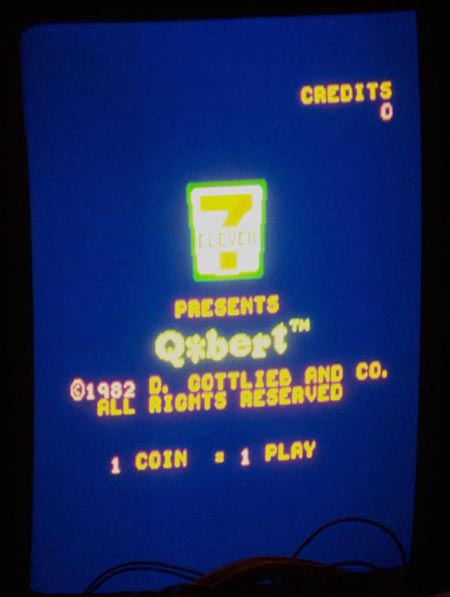 ---
Just in time for the Indianapolis auction, I got a couple of my newly designed arcade game t-shirts in the mail. I also got some professional photos taken and got a couple of those in email tonight. For now, I chose one for the 'Rotheblog About' page. This may change, but for all of those who have been reading and were curious to see what I look like now's your chance. (more…)
---
Back in late April I got my second arcade game themed piece of clothing when my Donkey Kong 2 t-shirt arrived in the mail. On my trip to Chicago for my Mr. Do! I also nabbed five more classic arcade shirts from Chris Moore.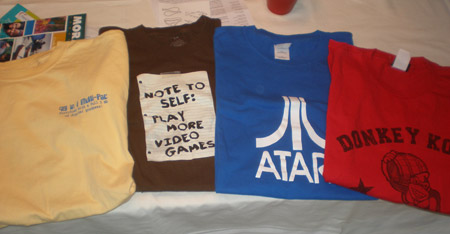 Some people may have too much pride to take a 'hand out'. I however sir, do not, especially when they are cool shirts and I have very few to speak of. (more…)
---
Mike Fox, a collector in Chicago is offering his Q*bert Multi Kit (developed by Dave Widel) for sale to RGVAC before auctioning it on ebay. He also mentioned that he would include the promotional Multi Q*bert t-shirt that came with his order when he originally got the kit. A quick search on Google didn't turn up anything about the Q*bert shirt, so I asked for a photo.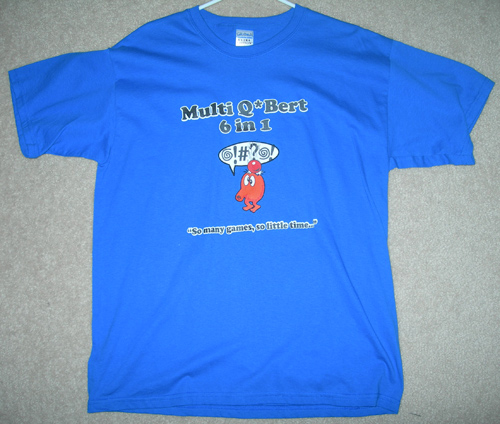 ---