I was looking for a post on RGP (Pinball Newsgroup) today, and came across a link to Pinball Sales and a photo of the new Dark Knight pinball that Stern is releasing to coincide with the movie starring Heath Ledger and Aaron Eckhart being released next week! Here's the photo showing the Batman and Joker themed artwork on the cabinet. (more…)
---
Warner Brothers is frantically sending C&D's to websites over a certain image of Aaron Eckhart's damaged face as Two Face. If you search 'Two Face Concept Art', you'll be able to get more of the story. Typically I don't like to repost content, but I had such a hard time finding photos / images of Two Face from The Dark Knight that I wanted everyone to be able to find and see Two-Face, even those who aren't searching for 'concept art' from the Batman movie. (more…)
---
Wow. I keep saying that "this" is the best image of the Joker to date, but truly, this first poster with the Joker and the city just speaks to my design sensibilities. Seriously, the color, the mood, everything, how perfect is this poster? I don't know if this is fake or not, all of these images were reported on "rated-m.com", but even if this is fake, I know I have to have a copy of this poster.

~Edit – Just Added! This Batman Poster is the perfect companion to the Joker poster. How awesome would these looked framed side by side in the movie / entertainment / game room of your house. A must have!

This is an awesome poster of the Joker also, very fitting and scary.

With some much press on Ledger's Joker I am still kind of hoping to be surprised in regards to Two-Face. But with over 7 months to go, I am not going to be naive. If the story does set things up that this movie is about the Joker and Heath Ledger, and act 3 is about Two-Face and Harvey Dent, let's just hope that Nolan sticks with the Batman and doesn't get the "3 movie burnout" which seems to be so common with these franchises.
Oh yeah, and some footage and the Dark Knight trailer was leaked today. Is it what we will seen in front of I Am Legend? I am not sure.
~Edit Here is more information about that Dark Knight footage, and this is a good explanation of the two different "trailers". Here is what John Bierly had to say ;
If you go see Will Smith's I Am Legend at a regular theater this weekend, you'll get to see the first trailer for the July 18 Batman Begins sequel, The Dark Knight.

If you go see I Am Legend on IMAX, you won't get the trailer but you will get to see the first few minutes of The Dark Knight in glorious IMAX. It's a prologue of sorts, featuring a bank robbery executed by The Joker (Heath Ledger) and his goons.

And though the IMAX Joker prologue won't arrive online, it looks like the trailer will be popping up on "A Taste For The Theatrical.com" on Sunday.
What to do! The desire to see it now on IMAX is stronger than ever! But at what cost? $25 for 6 minutes of joy?
On a related note, here are two fake Two-Face images that I am seeing for the first time. The original of the first image can be seen on IMDB. (Thanks John) I am told the second Two Face image is of Eckhart from Black Dahlia.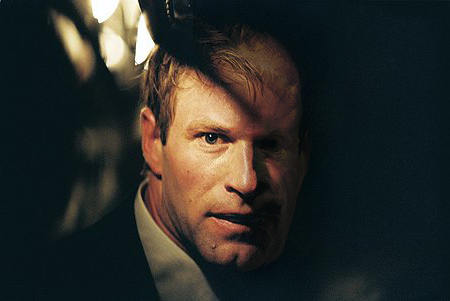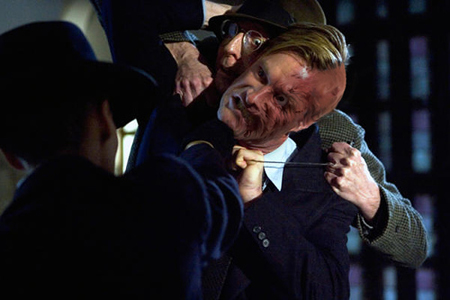 ---
Late last week I had seen posts about Why So Serious.com pop up on my radar. If you remember, this is the website that has had a couple of different "Dark Knight" viral marketing campaigns.
The newest addition was a Joker Jack-o-latern, with a creepy grin and a burning candle. I visited the site and didn't think too much of it.
But then, the Joker pumpkin's candle kept burning further and further down, and it was obvious something was going to happen. What new inside bit would we see about The Dark Knight movie coming up.
Well, on Friday and over the weekend, the pumpkin started to rot! I know it sound stupid to get so excited, but for a Batman geek this is a big deal. All of us are excited about Christopher Nolan's treatment of Batman, and all of the photos of the movie we have seen so far. We've already seen the joker, and Heath Ledger looks awesome. But what about an image of Aaron Eckhart as Two-Face?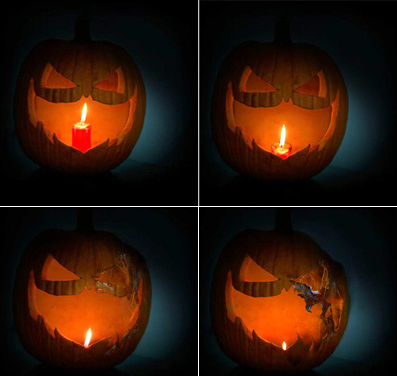 Here are some progression images showing the original pumpkings, and then the pumpkin rotting on only one side. The pace of the changes makes it appears as if the final reveal will take place on Halloween. How cool, something for the geeky comic book legions to look forward to!
(I know this is mostly re-regurgitating information from a ton of blogs, like HollywoodChicago…but not all of my readers visit those sites:)
---