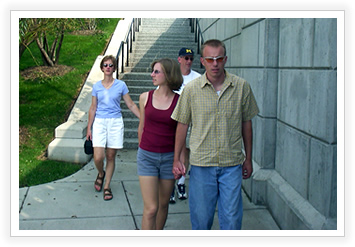 It's Labor Day, and we had our parents to look forward to. This was the only picture I got to take though with the digital, because I think it is getting old, and too lazy to even let me know when the batteries are low anymore.
Clockwise From Left – Mom, Dad, Ryan (Boyfriend) and my sister Jessica.
It was one of the only days this summer that the temperatures got into the 90's, so it was beyond miserable. So we came home and played cards and ate ice cream sundaes, which was kind of the calling card for the weekend. (The cards, not the sundaes, I mean, look at us, what a skinny family.)
Always bittersweet when they leave, the next time we'll probably see them is December, which is a bummer.
Here are some similar arcade posts
If you enjoyed this post, please consider to leave a comment or subscribe to the feed and get future articles delivered to your feed reader.