About Me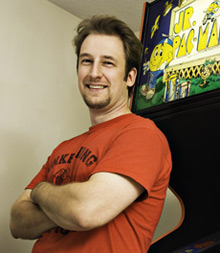 My name is Jeff Rothe (Pronunciation Tips / Identity Clarification) and I write Rotheblog to help other arcade / video game and coin-operated machine collectors find hobby news and tips.
My hope is that collectors both new and old will be able to find information on this site a little easier in Google without having to search a ton of arcade specific forums. My particular focus for Rotheblog in relation to collecting arcade games is;
New vendor product announcements – Reproduction artwork, parts and other related projects
Building your arcade collecting website – Coding, SEO, and using WordPress to get your message and your collection out there
Arcade Game Restoration Artwork – Vectorization, printing, scanning and using the software involved
From arcade news and tutorials, to my own personal arcade game collection and repair logs, since 2006 Rotheblog has covered the arcade topics that are of interest to me and hopefully to the rest of the collecting community. I typically update Rotheblog with breaking arcade news and insightful information several times a week. Prior to starting a blog about arcade collecting, I have been a web developer for many years and a creative director at a sportswear company for over three.
Arcade Game Blogs
Rotheblog is one of the few dedicated classic arcade blogs out there, but you might check out Noiselandarcade, Jeffsgames, or just read this short post on other classic arcade game blogs. The arcade blogosphere is a tiny, tight knit community, but because we share knowledge with each other this community is starting to grow. Interested in starting your own arcade blog? Talk to me, I can help you out in many ways from theme design to niche specific plugins and SEO for that almighty collector traffic.
My 'Absolute' Favorite Classic Arcade Games
These are the games that will always be permanent fixtures in my arcade no matter the circumstances. I have four all time favorite games – Bally's Jr. Pac-man, Sega's Pengo, Universal's Mr. Do!, and Bally's Ms. Pac-man. I designed this site around the first three games because they are a little less common than Ms. Pac-man. I am rabid about these four games, where I care little about just about every other arcade game. The rare games like Major Havoc, Cosmic Chasm, Computer Space hold little to no interest to me. I would rather know everything about and own every possible piece of related merchandise, artwork, and other objects concerning my favorite list of arcade games.
Know something I might not about the history of one of these four classic arcades? I always like to hear more, shoot me an email.
Aracde Game Collecting in Indianapolis
As an aside, but related to this topic of blogging about classic arcade games, I have a page just about collecting classic arcade games in the Indianapolis, visit that for more information about the hobby locally and in Indiana.

A Little More "About Me"
Pronouncing my last name
Interested in how my name is pronounced? Well, here's a simple phonetic breakdown;
Row-thee – Right!
Raw-thee – Nope!
Roth – Nope!
Ru-thee – Nope!
If you get it wrong once, no big deal, this is just part of my life. Just a little help.
My online persona
For those interested parties trying to do some background research, I want to help. Please note, I have never spelled my name Jeff Roth (without the 'E'), so any mentions spelled in that format are not me. Also, I formally go by 'Jeff' online, so any variations of Jeff, ie – Jeffrey or Jeffery, are also not me.
From time to time, I try as best I can to keep up on searches of my own name. As I find any listings of true importance that confuse me with anyone else of the same name, I will list them below.
Please note: The following websites / online profiles and personas with a similar spelling of my name are not me;
http://www.thejeffroth.com/
http://70.32.84.222/people/wizard06/buddies
http://jeffroth.carbonmade.com/
http://publicpersonnellaw.blogspot.com/2010/02/lawsuit-dismissed-for-failure-to.html
Onto the story behind Rotheblog.com
I originally built Rotheblog in August of 2004 as a more informal way to journal and chronicle all of my interests. At that time Rotheblog had quite a diverse theme, from movies and comic books, to my daily life and technical knowledge of the software I use on a daily basis, Rotheblog was about all of my personal interests. The strategy of the website originally was to train myself on the nuances of building CSS only websites. The website wasn't pretty at first, but I learned a lot and it was a useful platform to expand and to grow professionally with a skill that makes me more marketable and relevant. I advocate those type of self designed exploratory projects, I added Adobe (Macromedia) Flash to my list of proficiencies in the same fashion one year prior in 2003.
Over the years, I have expanded, consolidated, and added new areas to Rotheblog as my interests have changed. In late 2006 I became interested in collecting full size classic arcade games, and therefore I started to make a shift to writing mostly about arcade game topics. In February of 2008, I shifted completely over to an arcade game collecting blog and removed several hundred posts concentrating on my personal life and interests.
The one thing this site is not, is a place to explore controversial topics. This website is meant to be a positive place to discuss a specific hobby, and not to talk about hot button topics like religion or politics. In a day and age where researching someone's background is only a click away, the intent of this website is to be informational, and relevant.
If you have any questions about intent of a message, I welcome you to contact me directly so we can speak about it. At the very least I am a creative marketing individual who has grown this blog through a lot of hard work, building relationships slowly and carefully, while providing a lot of really great relevant arcade game information.
A little more about that sportswear company
As of this writing, I work as the Creative Director for Moxy Sportswear in Indianapolis, IN. Moxy designs quality custom sportswear with poster quality graphics for fundraising, corporate gifting and for the retail market. Using a newer process of sublimation, we are able to put photography quality images on sandals, flip flops, canvas sneakers as well as backpacks and sport bags.