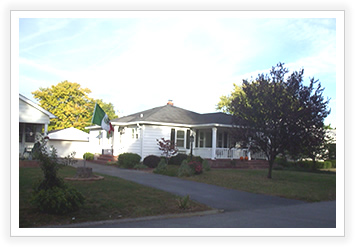 This was the first house out of the handful of the ones we had seen that I was interested in. The basement was mostly remodeled with enormous built in shelves. There were huge hallways to move things through which also seemed to have a great airflow, there was this cool brick patio out front I could sit on, it had a two door garage, there was a nice wooden privacy fence in back perfect for keeping a dog safe and it was located about three miles from work. But just four days after looking at this house, it had a bid on it and I didn't feel the need to rush anything. The young couple who lived in it now only bought it a year ago and were moving to Arizona so they were motivated, but it just wasn't meant to be.
The weird thing is though that although this was the first house I may have thought about bidding on, another house that was kind of intriguing to us on our first house hunting trip had a bid three days later and sold less than a week after we looked at it. From all that I can tell housing is at a premium right now and when we do decide, we will have to snatch up something really quick, which is troublesome if you are trying to make the best possible decision.
Here are some similar arcade posts
If you enjoyed this post, please consider to leave a comment or subscribe to the feed and get future articles delivered to your feed reader.