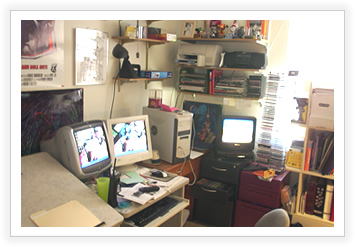 I know that this doesn't excite too many people, but it is exciting for me, and it is my blog,…and it was a real hassle when it came down to it. (I ended up having to get a new hard drive soon after.)
I have been doing a good deal of freelance lately, and as a result I decided that I would treat myself to some upgraded equipment. I wrote a month or so ago that I got the monitor for $20 bucks, I then bought a Gigabyte video card, 256 MB with the NVidia chipset.
It has taken some adjustment that is for sure, but I haven't had a chance to do too much Photoshop work since I got it, which is one of the two big programs I got it for. But I have used it for Flash, and to be able to get all of my animation palettes off to one monitor and have more room to work is so nice.
Here are some similar arcade posts
If you enjoyed this post, please consider to leave a comment or subscribe to the feed and get future articles delivered to your feed reader.