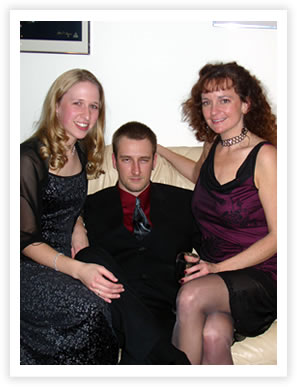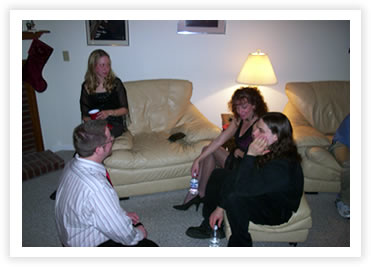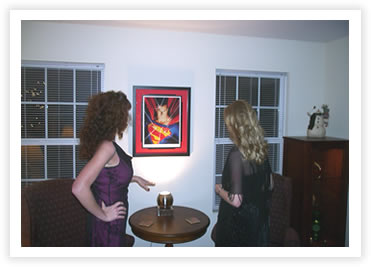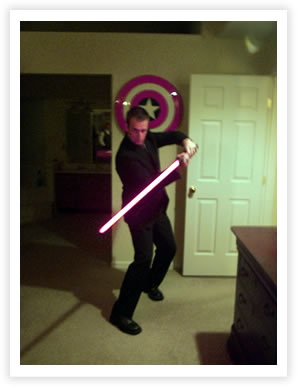 Just for starters, look at the Lightsaber replica, metal handle and real swishing and clashing sound effects included. I thought that this photo, with the limitations of my dinky digital camera considered, was a cool one with the glow.
Oh, and the photo of the three of us is from David, thanks man. But I had a choice with another photo, and I chose this one because that way I won't get grief from a certain someone about her sleeve falling down. Even though I look like a total loser.
Anyway. Christine and I were invited to this party during the Mid Ohio Convention the last weekend of November. I didn't at the time know if we would hear back from David or not, but he was true to his word and we got his information about his little Christmas get together about a week later.
However, I had had a heck of a weekend with driving the prior weekend in Michigan and didn't really feel like driving to Kentucky then the next weekend, and Christine was gracious enough to drive. She was pumped about going, and even though I was a little on the fence, her excitement is pervasive and will envelope you.
We left on time and actually the drive was a little less than 2 hours so that was a nice surprise. We got there five minutes early and we among the first couple of people there, but most of the crowd came soon after.
David's house is crazy awesome, and not just from a geek standpoint. Two story brick with a basement, if it wasn't dark out I would have taken a photo. Needless to say that he does real well for himself.
David also is an awesome host. From my personal standpoint, I went being a little nervous that I wouldn't know anyone and if I would be in an outgoing mood or an introvert mood and how much that affects my time. But from the time we walked in the door he made sure we were accounted for, how we were enjoying ourselves, if we had some drinks, etc. Soon, we saw more familiar faces from the convention and we were up and rolling.
David's house is immaculate, and I don't think that it is just a party setting. He is a rare Type-A comic guy personality. He had many of his commissioned art pieces around his house and I even have a photo of one above. That is a Superman by Alex Ross that David actually had signed by Ross. The nice thing about Ross is that he isn't too stylized, and has been somewhat mainstream (See Oscars from about two years ago) so the general audience can appreciate his craft.
Here are some similar arcade posts
If you enjoyed this post, please consider to leave a comment or subscribe to the feed and get future articles delivered to your feed reader.