Sometimes the anticipation and the secrecy is just as exciting as the actual movie when it comes to casting for Comic Book based movies.
This is no different for Spiderman 3. The rumors are not concrete. There are so many swirling around, from four villians, to maybe an appearance from the Black Cat, to Venom, and on and on.
Thomas Hayden Church = The Sandman?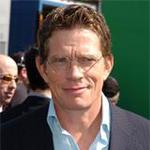 Thomas Hayden Church, who I keep hearing was"that guy from Wings", or for me more recently was in Sideways, was cast in March for Spiderman 3. The most popular rumor is that Hayden Church will be playing The Sandman, but it has also been said that he could play Venom, which although bold and has a fine line for failure, could be a huge payoff if done properly because of his popularity.
Venom, and alien symbiote that is almost liquid in form, is worn as a evil costume in the comics by Eddie Brock and eventually starts to take over his mind. Church really has the figure to play this role, but honestly, could they pull that off? That would be a ton of CG, it doesn't seem like but yesterday that some of Spiderman's scenes in the first film looked fake, and even one or two shots looked a little off of Alfred Molina as Doc Ock last year.
Hayden Church did say this in an interview(Entertainment Weekly). His statement is probably purposefully weird, and if I felt like researching into Spidey Villains, I might try to make more sense of it. But, it seems like it could fit into the theory of a Sandman character.
EW: After reminding the world he could really act in Sideways, the Oscar nominee will play an undisclosed, top secret villain in 2007's Spider-Man 3. How about a hint?
THC: "He's a horse of many colors."
EW: There are horses in Spider-Man?
THC: "Let's just say he's an amorphous collection of protons, electrons, and neutrons, of different colors."
Topher Grace = ?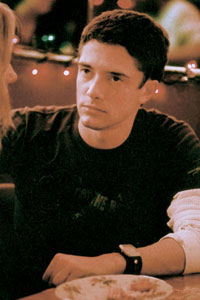 Then, in May, Topher Grace of "That 70's Show" fame was also cast for the upcoming movie. Having an especially hard time picturing Topher as a villian, I assumed he would play something else in the movie, some other role. But who? Honestly, would Mary Jane leave Peter for another love interest now? That wouldn't make sense.
I have read rumors that he could play The Vulture but I have also read of Topher playing Sandman in the scenario that Church is playing Venom. Either way, the more I read around the internet, Sam Raimi has said that the next movie with have more special effects than the first two and the costumes for the Villians will just be amazing. So my initial idea of him being some regular joe is most likely way off base.
In the end, it's just speculation. I wish it was more.
Yeah, ok. There is just so much they could do. One could argue that most of the villains mentioned couldn't probably even carry a movie in motivation by themself, so two would really make sense. Plus, they introduced Curt Conners in the last movie as one of Peter's professors. But will the one armed scientist be the stronest villian choice as The Lizard? Depending on motivation maybe, you have a story of Peter trying to save him, and some cool action scenes of him jumping and climbing all around. But, he would probably have to be all CG as well, so why not just do Venom then? Venom is a lot more popular.
I don't know. Principal photography beings in January. I guess I will just have to concentrate on King Kong for now, and try to wait patiently. I will have a preview in the fall of Superman Returns to tide me over too.
Here are some similar arcade posts
If you enjoyed this post, please consider to leave a comment or subscribe to the feed and get future articles delivered to your feed reader.