Earlier in the month, actually June 1st, I bought my very first arcade machine – a beleaguered Pac-man. I had been looking for a Ms. Pac-man specifically, but found this instead at Wagner Gameworks. With some cabinet damage and some terrible attempts at touchup, this Pac-man was a great candidate to be taken out back and set on fire. Depending on how you look at it then, it was fortunate that I picked it up.
My ugly Pac-man
Interested to see what my first Pac-man cabinet looked like when I first got it? Click on the detail photo below to enter the photo gallery in all of Pac-man's beautiful glory.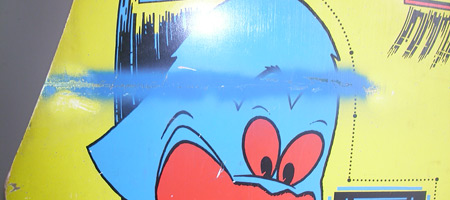 Here are some similar arcade posts
If you enjoyed this post, please consider to leave a comment or subscribe to the feed and get future articles delivered to your feed reader.