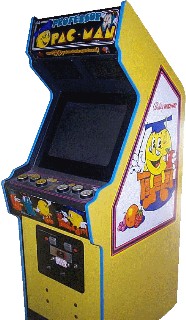 I didn't know too much about the game, other than it was trivia based game with questions and answers. Reading klov, it says that the game had over 500 unique answers, which really isn't a ton. Midway thought this was going to be the next big type of game, but it flopped immediately, and only 400 were ever made.
Not a type of game that appealed to me, Pac-man based or not, I didn't figure that I would be doing artwork for this game. But Richard Ford asked me if I could redo the control panel for him, I believe he has two of the few that still remain. The second one needs the parts, and hence the artwork.
Here are some similar arcade posts
If you enjoyed this post, please consider to leave a comment or subscribe to the feed and get future articles delivered to your feed reader.