I have met one owner of an Agent X arcade game, although I didn't know anything about it when I met him, nor did I even see the game during my visit. It wasn't until successive conversions later that I found out about Agent X's rarity.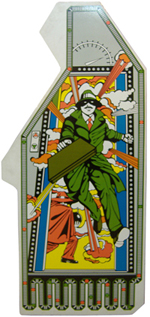 This is what Joe had to say about Agent X, recalling as best he could the history of the game off the top of his head and what he had to go through to find his;
"On the Cloak & Dagger, it gets a little collector/geeky/anal. When Atari originally developed the game, the name was Agent X. Then Hollywood made the movie Cloak & Dagger and asked Atari to make a game for it. Agent X was already a version of the game. Rumor has it that only 20 dedicated Agent X units were ever made and these were only made for field testing purposes, they were never meant for public release. Of those 20, 7 were Agent X, and the other 13 were Cloak & Dagger. Cloak & Dagger was released for general purchase in kit only form, for converting other games, specifically Williams games (Stargate, Defender, Robotron, Joust). So game play wise, Agent X and Cloak & Dagger are exactly the same, only difference is the title screen."
"Cabinet wise, conversion units are cheap and relatively easy to find. They sell on ebay for less than $400. Dedicated units are close to impossible, as there were only 20 or so made, and the ones out there are typically in collectors hands that don't want to sell them. The last one I heard selling was a Cloak & Dagger which sold for $3,000. An Agent X is even more rare. At one point someone offered me $10,000 for my Agent X. I'm sure that's no longer a valid offer as that person has since got a dedicated Cloak & Dagger. But it was a nice offer to get. Certainly one of the most valuable in my collection."
"Probably way more information than you wanted, but it's one of my prize games, so I like talking about it! It was a pretty big search to find and get."
So basically my interpretation of this information is that of the few Agent X's that were produced, most of them are or at one time were owned by Atari employees. Now they made have made their hands into serious collectors who know their value, similar to Joe, but the only way you might get one is to start the way he did and track down some old Atari employees.
Why reproduce artwork for Agent X?
Well, for two main reasons. I like the two people I have met, so it is a good opportunity to show them some good will in networking. Also, because Agent X is so rare, hopefully it will mean I am one of the few people who have a copy of vector artwork for the Agent X kickplate, sideart, marquee, speaker overlays, control panel, or whatever else I decided to vectorize and prepare for reproduction.
Update – March 23, 2009
If you look below in the comments, one of the original creators that worked on Agent X left a comment, and basically confirmed all of the information that Joe shared about the game. I have no doubts that on his hunt Joe probably talked with Rusty about the history and that is where most of his 'unconfirmed' rumors came from.
Here are some similar arcade posts
If you enjoyed this post, please consider to leave a comment or subscribe to the feed and get future articles delivered to your feed reader.