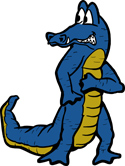 Got more photos last night in email last night from Richard of the Alligator tail, so I was able to finish up that piece of vector artwork.
Next: Onto the crazy monkey riding the pig.
Here are some similar arcade posts
If you enjoyed this post, please consider to leave a comment or subscribe to the feed and get future articles delivered to your feed reader.