Since I was so heavily involved with tracing some other pieces of Professor Pac-man artwork, Rick F. finally had some time to snap off some large and detail photos of the Professor Pac-man sideart. I have them in my possession, now if only time grew on trees.
Professor Pac-man sideart reproductions
There would be about as much demand for these as for the control panel overlays, however the only difference is in my subjective opinion – the few Professor Pac-mans I've seen around usually still have the decal / sticker artwork on the side of the cabinet. The games didn't get much play, but even without much wear and tear, the CPOs were more likely to have been worn out than the sideart.
Here is one of the detail shots I got. Thanks to Rick F. for taking the photos and letting me show them off here;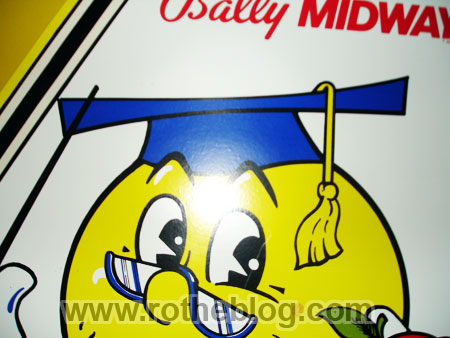 I had referenced a desire to turn the Professor Pac-man sideart into vector format on the control panel overlay post, now it's only a matter of time. New arcade reproduction projects seem to be cropping up constantly, and it's a matter of having the time to sit down and actually do them.
Here are some similar arcade posts
If you enjoyed this post, please consider to leave a comment or subscribe to the feed and get future articles delivered to your feed reader.