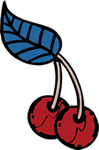 The cherries are done, now all that is left is The Glob. I got a great photo now from Rich to work with, so I can start at any point. I don't think I'll probably use all the characters, but better to have them then need them and not have them. He mentioned possibly doing stencils, which would mean the color matching from my end wouldn't be as big of a deal, but I would need to do another process as the The Glob kickplate is designed, doing the separations for it.
Here are some similar arcade posts
If you enjoyed this post, please consider to leave a comment or subscribe to the feed and get future articles delivered to your feed reader.