Late last week I had seen posts about Why So Serious.com pop up on my radar. If you remember, this is the website that has had a couple of different "Dark Knight" viral marketing campaigns.
The newest addition was a Joker Jack-o-latern, with a creepy grin and a burning candle. I visited the site and didn't think too much of it.
But then, the Joker pumpkin's candle kept burning further and further down, and it was obvious something was going to happen. What new inside bit would we see about The Dark Knight movie coming up.
Well, on Friday and over the weekend, the pumpkin started to rot! I know it sound stupid to get so excited, but for a Batman geek this is a big deal. All of us are excited about Christopher Nolan's treatment of Batman, and all of the photos of the movie we have seen so far. We've already seen the joker, and Heath Ledger looks awesome. But what about an image of Aaron Eckhart as Two-Face?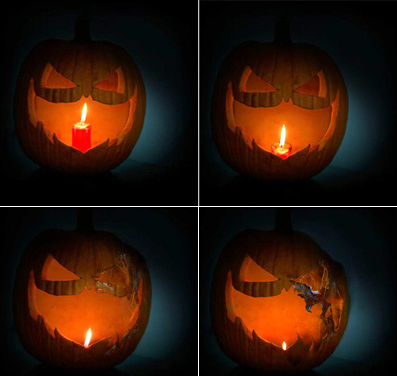 Here are some progression images showing the original pumpkings, and then the pumpkin rotting on only one side. The pace of the changes makes it appears as if the final reveal will take place on Halloween. How cool, something for the geeky comic book legions to look forward to!
(I know this is mostly re-regurgitating information from a ton of blogs, like HollywoodChicago…but not all of my readers visit those sites:)
Here are some similar arcade posts
If you enjoyed this post, please consider to leave a comment or subscribe to the feed and get future articles delivered to your feed reader.