Archive for November, 2007
Been really looking forward to doing a Pengo control panel vector artwork progress update for over a week. It has taken me forever to find a few minutes here and there to work on tracing the remaining Pengo characters on the overlay. But here is the progress to date;

One glance and a collector knows, well, it looks like the Sega Pengo control panel is almost done. But, here are my notes so far;
I traced the "left" direction Pengo and mirrored him. The "right" is slightly different, just enough that I will have to trace Pengo again.
The Upper left Pengo and Sno-Bee are a mirror of the left side. They are a touch different as well, but that character artwork is a little more complex. I will have to take votes on what people think
I think there are some color separation discrepancies from the original control panel overlay. I will also have to take a vote on what to do about that.
Of course, the "Pengo" logo has to be traced.
I will probably post blown up raster images of the Pengo overlay details in question above, so keep posted here. But first things first, trace Pengo going for the right joystick direction and go from there.
~Edit 12/13/2007 I have now crossed off some of the completed items above on the Pengo control panel overlay. Check my new updated post "Pengo CPO Vector Update 3" – Tracing Complete! to see the current progress.
---
I am late to the game, but I have gotten so much interest through my website about The Dark Knight, that I thought I would keep the viral media pipeline flowing.
Here is the cover of Wizard magazine, a tongue in cheek comic book price guide, news, and review vehicle.
I am not crazy about this image of Heath Ledger as the Joker, it wasn't the best shot for Wizard Magazine to use. Joker looks a little constipated.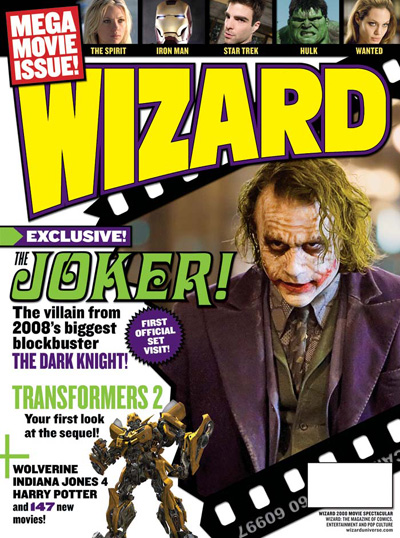 ~ Edit 12/10/07 I knew it was only a matter of time before we saw this photo of the Joker without the trade dress. The full body photo showing all of the Joker is much better in my opinion, much more maniacal.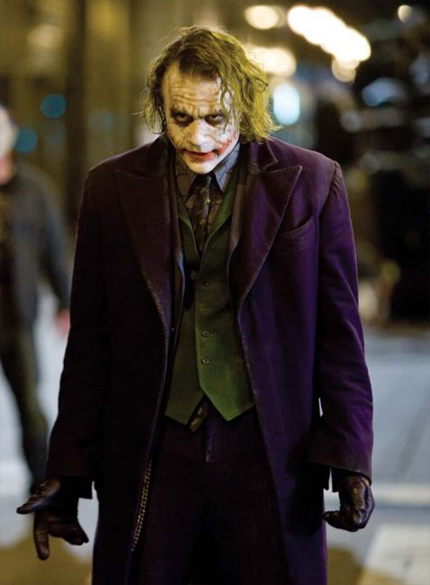 ---
I came across this dog photo on istockphoto.com today and found myself laughing hysterically out loud at work much to my embarrassment.
Cute, content little dog (not my preferred breed, but serves the purpose) mid stride with a big 'ol rubber chicken in his craw. Captures the moment perfectly.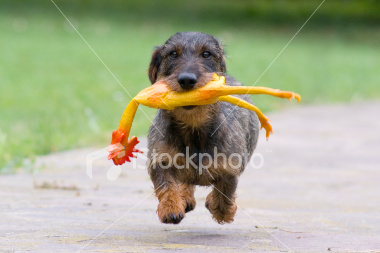 I know there are sites out there dedicated just to cute pet photos, and this probably doesn't touch the adorable level, but I wanted to remember today with this photo at least:)
---
For awhile, I have been meaning to post about the three seriously long topic thread on BYOAC and KLOV about Joymonkey, and his quest to make licensed Ms. Pac-man stencils. He produced a set of Ms. Pac-man stencils, complete with videos, the whole works. There are a ton of images of the stencil development in the BYOAC thread which give a ton of great content and information.
For now, posting the Ms. Pac-man kickplate dimensions will have to suffice. Here they are. I could have measured my own Bally Ms. Pac-man, and drawn this diagram out, but why re-invent the wheel, and this is a nice kickplate diagram.

Any time you have a thread related to dimensions of Midway arcade cabinets you have talk about the "slope" of the Midway cabinets. (Ms. Pac-man, Pac-man, Galaga, Galaxian, etc. etc.) But in the case of the kickplate, there was some discussion of how accurate the Midway cabinet plans on Jakobud are, and this diagram puts all of those questions to rest.
---
There was a post on the forums about a month back of someone looking to do reproductions for some Nintendo Super Punch Out Decal / Sideart Stickers. At the time, I jumped in, thought it would be a fun short project that could help me get to know some more collectors.
The collector sent out polite emails to all VAPS members who had a Super Punch Out to see if any of them would be willing to help get a scan of the Super Punch Out sideart. As it turned out, one member had one NOS decal, un-applied and was open to getting it scanned. They took it to a local print shop to get a nice full oversize scan of the Super Punch Decal, it turned out nice. They sent me a copy, but the collectors decided that is made more sense to do the decal reproductions on their own and I didn't feel that strongly about this game personally so that was fine. (I haven't ever actually played Punch Out or Super Punch Out in the arcade, only Nintendo)
Here is what a smaller version of what that sideart Super Punch Out Decal piece looks like;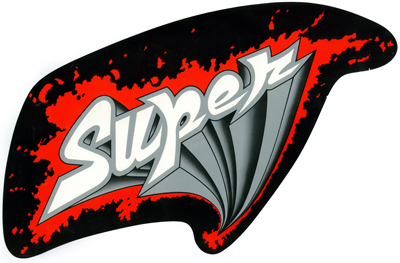 There were two challenges with the artwork. The is a dot gradient of sorts on the swooping "Super" lettering, and the original artwork was screen printed on reflective material of sorts. Here is a closeup of the gradient.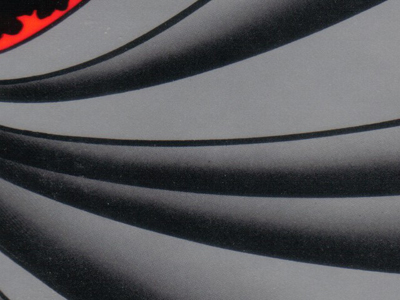 I had originally contacted Rich at This Old Game to get his input on how the gradient would be done. It doesn't sound like the Super Punch Out decals will be made with him, however;
We are looking for people interested in buying a set (two decals, one for each side of the machine).

The decal in question is approximately 18″ x 10″ and is placed above the regular Punch-Out side art when converting to Super Punch-Out. It says "Super" on it and looks like this – http://maxim.skyphix.com/super.jpg

This illustration from the Super Punch Out manual shows where they are applied on the machine;

I have an NOS Super Punch Out decal that I scanned in at 600 DPI and vector traced. The NOS decal will also be used by the screen printer for color matching. The original Punch Out decal has portions that are a metallic silver-gray in color, and I was concerned about them being able to recreate that. I visited their place today to show them the decal and they showed me a piece they were doing for L.L. Bean which used a nearly identical metallic silver-gray ink, so that part should be no problem.

The Super Punch Out artwork will be screen printed (AKA: silk screened), 3 colors, with the black being halftoned to represent the gradients (which is how the original was done), onto white self-adhesive vinyl, and cut to the outside shape on a plotter.

When looking at the original, they noted that it was laminated, which gives it a glossy appearance. They showed me a piece they had done that was laminated in the same way, and the finish/gloss was identical.

The cost was originally estimated at $26 per decal, but with lamination, it was estimated at $27 per decal ($54 per set). I know it is a bit pricey, but it is a small run (minimum order of 24 pieces).

Anyone interested in buying a set for a Punch-Out or Super Punch-Out machine will only need to pay actual cost.
There was a tremendous response to the reproduction decals, which is awesome for them because they'll both get a couple new sets of the Punch Out Decals as well as recoup some of their cost. Sounds like the order was placed on the 27th of this month, so the Super Punch Out Decals will probably be done sometime in December of 2007.
Update: 02.06.08
The Super Punch Out Decals were finished at the beginning of the year, around the second week of January 2008. Here is a photo of the final product. Not the best photo of the sideart decal, but it is a reflective material so what can you do?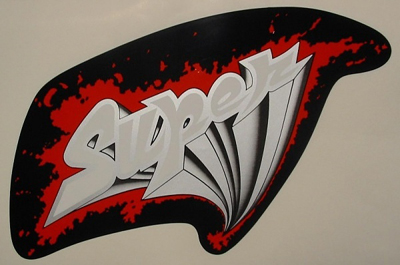 They sold out in the pre-order with only about 10 sets of Super Punch Out art reproduced. Make sure not to miss out as Maximum Recoil is continuing his quest on reproducing artwork for this, his favorite game, by doing a limited fun on the "Duck Pull" artwork.
---
Cop out tonight, I have too much to do and no time.
Saw this retro arcade video link posted in the Google Coin-Op groups. It's a commercial for Chardon jeans, smacking of true 80's design, cool at the very least for the girl that is rollerskating like life couldn't get any more simple. The jean commercial is set in what looks like an arcade, I was not old enough at the time to know if this is a typical looking arcade or not. Oh yeah, and Larry Bird is also in the commercial.
The game of choice in the commercial is Stern's Berzerk, and it looks as though the marquee doesn't have any flaking just yet:)
---
Earlier today I saw that there is a new "anticipation" hype site that is slowly releasing a new image of Heath Ledger as the Joker, "He is coming". Empire Online is slowly flipping over cards, and over a three day span, will reveal a sinistar looking image of the Joker from The Dark Knight.
Sure enough, the image got leaked, and we don't have to wait until the three days are up. That is, we don't have to wait to see most of the Dark Knight Joker image….but I am waiting to see what is in the background without the magazine trade dress messing everything up. Wouldn't it be awesome is they threw in some images of Harvey Dent in the shadows in the back jail cell, or another famous Batman villian like Riddler or the after effects Scarecrow?
Take a look below. One of the few images showing Heath as the Joker to premiere in full body length, and not some snap scene from the movie. Very maniacal! Very Awesome!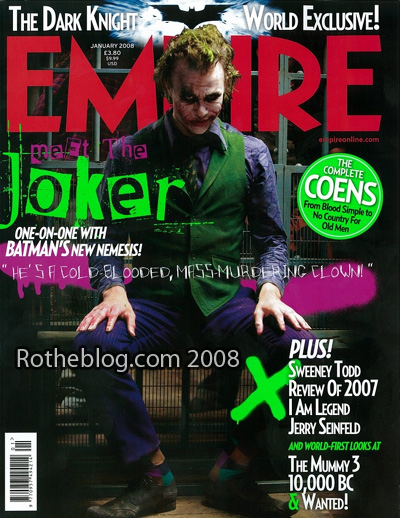 ---